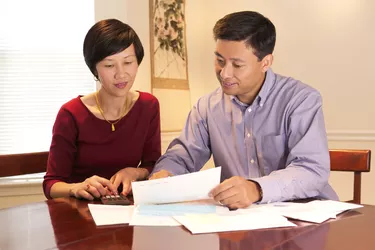 Anyone who is closely familiar with real estate transactions knows what an Assessor's Parcel Number (APN) is, but it may be a mystery to the layperson. An APN for property is a specific, unique numeric or alphanumeric identifier that varies in length, is assigned to real property by tax assessors and is used for valuation assignments and record-keeping. Taxing authorities use APNs to provide property tax information to the public, including mortgages, deeds and other records. Government agencies also use APN identifiers for different reasons.
How Can I Find an APN Number?
APNs are generally sets of three to four numbers/letters, separated by dashes. These are recorded on county parcel maps, and the first set of numbers is the book number for the particular map. The second set of numbers corresponds to the book's page number, and the third is the parcel number itself. When the property consists of lots divided up into apartments, duplexes or condominiums, there is normally a fourth set of numbers for the separate units.
Where can you find your own APN? Have a look at your latest property tax bill. The APN should be up by your name and address, toward the top. If not, it could be on the tear-off portion of your last bill or on a payment voucher. If you still can't find it, note that it can also be referred to as the APN, assessor's parcel number or just as a parcel number.
Troubleshooting Finding an APN
If you cannot locate any of this paperwork, you can navigate to your county assessor's website. It may have some online property search tools, or you may be able to send in an email request. These let users enter information such as their name, address and state-issued tax ID numbers to pull up information about property parcels.
Otherwise, you can show up in person, but be sure to call ahead of time. Real estate professionals can also help out with this, as they have access to property databases and can often find the information quickly.
How Else Are APN Numbers Used?
APNs are useful because they provide precise land records without room for doubt. Tax assessors use APNs when they want to find out a property's value and who the owner is. Title companies get their deed information from APNs, and appraisers get a land parcel's official boundaries and dimensions from those numbers. In addition, lawyers use APNs in real estate transactions, especially when deeds are involved.
Counties throughout the U.S. have websites and pages devoted to assessor parcel maps. In Sacramento County, California, for instance, there are approximately 475,000 parcels of land and 9,500 corresponding maps. Their website allows people to look at the maps online, and maps can also be purchased for a small fee. These are good resources for determining property boundary lines too, and this is important if you plan to do something like building a fence or a shed.
Some people look for APNs and parcel maps to see if a property has any easements, but this information is not usually found here. Easements can be created through agreements by two parties, other kinds of maps and deeds, but this information is usually recorded elsewhere. To see if a property has an easement, a preliminary title report can be obtained from a title company.