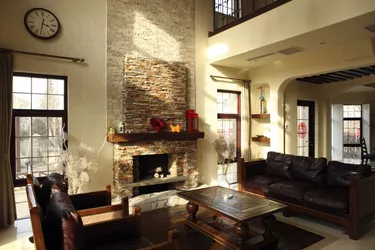 Since a house's age can shed light on the property's market value, construction and condition, you might wonder, "How old is my house?" You can look up the year a home was built online since the county assessor maintains property profiles, and the information is usually publicly available and free. In addition, you can check other real estate websites, search for specific documents, consult certain people and organizations or consider the home's architectural style.
Trying Initial Real Estate Search Options
Whether you purchased a new construction or have an older house, you might be able to quickly ask about the date without needing to go through the county recorder's office. The National Association of Realtors explains that realtors have access to the comprehensive MLS database with American houses and other properties. So, if you're currently working with a real estate agent, you could simply ask them, "What is the manufacturing date of my house?"
If you're not in touch with an agent, there's a good chance you can find information about the house history through a real estate website, like Zillow or Redfin. You can simply search by the house's address to find the listing, which should show the "year built" entry alongside other home specs and data, like the property tax history. This information comes from public records.
Finding the County Tax Assessor Online
If your initial searches don't help, you should identify the county of the residence in question and locate the tax assessment office, suggests the Library of Congress. You can then find the county's homepage online and scroll through its department listings until you find the assessor's office.
This office may have a webpage within the county's website, or you may be directed to a separate site. Find the assessor's search tool, which is usually under "assessment information," "property information" or a related link. For example, Nassau County in New York has a page where homeowners can enter the property's address or look it up by section, block and lot.
Searching for a Specific Property
When searching online through the county tax assessor, have the right information on hand. A parcel number makes the search easy, but you can also often use a street address or the owner's first and last name. An address or parcel number should yield the specific house; however, if you used an owner's name and it's a common name or the owner has multiple properties, you may have to scroll through several listings to find the right property.
You'll want to review the parcel information and find the original year of construction, usually next to "year built" or like terms. The home's profile page also features data such as acreage, zoning, square footage and rooms in the house. Within this list of characteristics, you can find the original year of construction. The property's listing can include other details about tax records, title deeds, existing liens, property layouts and previous owners as well.
Visiting the County Office
You can also go to the county tax assessor's office in person and request this information. Someone on staff may refer you to a public-access computer that you can use in the assessor's office to find the information yourself, or they may ask for the address or parcel number to look in the property records to find the date you need.
Each county tax assessor has property information for houses in that county. Therefore, you should make sure you head to the office in the same county as the home's property address.
Considering Other Property Age Identification Options
Along with using real estate websites and consulting the county tax assessor, you can try some other options to get the exact age of your home or an estimate.
For example, the International Association of Certified Home Inspectors explains how you can use the architectural style, building materials and home features to estimate how old a home is. For example, Georgian-style homes were popular from the 1600s through 1800s, while Victorian homes were popular from 1840 to 1900. Learning about architectural features and looking at old photographs of properties with different styles can help you see what fits.
If you're interested in older homes, you can also coordinate with the local history society, ask the local library or check the National Register of Historic Places for an original construction date. Other options for finding out the age of your house include looking up building permits or census records.