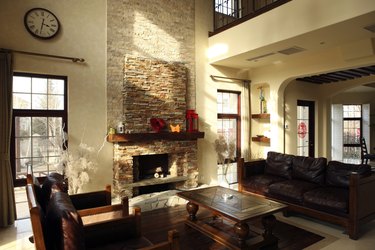 A house's age can shed light on the property's market value, its construction and condition. You can look up the year a home was built online via the local tax assessor's website. Tax authorities maintain property profiles and the information is available to the public and usually searchable for free. With most government offices digitizing official property records, finding a house's original year of construction is relatively easy. Although assessor and land records websites vary in searchability and features, you can usually identify the house you need with at least a parcel or lot number, an address or homeowner information.
Finding County Tax Assessor Online
Identify the county of the residence in question, find the county's homepage online and scroll through their department listings until you find the assessor's office. This office may have a webpage within the county's website, or you may be directed to a separate site. Find the assessor's search tool, which is usually under "assessment information," "property information" or a related link.
Visiting County Tax Assessor's Office
You can also go to the county tax assessor's office in person and request this information. Someone on staff may refer you to a public-access computer that you can use in the assessor's office to find the information yourself, or someone may look in the property records to find the date you need. Each county tax assessor has property information for houses in that county, so make sure you head to the office in the same county as the home's property address.
Searching for a Specific Property
Search for the property using the information you have. A parcel number makes the search easy, but you may also be able to use a street address or the owner's first and last name. Enter the information in the search field and continue.
Search the results until you find the intended property. An address or parcel number should yield the specific house you're looking for; however, if you used an owner's name, and it's a common name, or the owner has multiple properties, you may have to scroll through several listings until you find the right property.
Reviewing the Parcel Information Details
Review the parcel information and find the original year of construction, usually next to "Year Built" or like terms. The home's profile page also features data such as acreage, zoning, square footage and rooms in the house. Within this list of characteristics, you can find the original year of construction and an effective date. The effective year is that in which permitted construction, major remodeling or additions to the house were made.
Tip
If you're interested in a particularly old house, you can also coordinate with the local historical society or check the National Register of Historic Places for an original construction date.