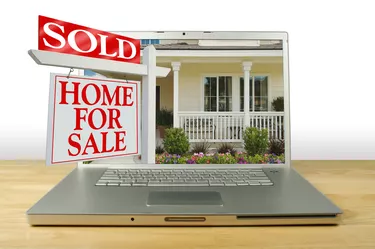 The MLS, or multiple listing service, is a database and tool to help real estate agents list, sell and purchase properties. Homes are identified by MLS numbers, and individuals who are not registered with the service can do an MLS search by number. MLS ID numbers are not hard to find. The best sites for real estate allow you to enter a property's address, and the listing that comes up will usually include that number.
Searching the MLS Website
You can navigate the MLS website, but this will redirect you to other sites for the information. Users then need to create an account to get the information. Keep in mind that whenever you register for accounts on any of the best sites for home buying, you may be contacted by a real estate broker.
Alternative MLS Lookup Tools
The MLS is a private database used by those who work in the real estate industry, but others can easily locate MLS ID numbers, selling prices and other property details. To find an MLS number, Google the street address, city, state and ZIP code. Sites like Trulia and Zillow will provide information on properties that are on and off the market, with the price, square feet, year the home was built, features and price history. But unless the property is on the market and up for sale, there will not be an MLS number because the home is not listed there.
A real estate API (application programming interface) is another way of accessing MLS information. These are software tools that act as intermediaries between one application and data produced by another. They transfer MLS listing data to real estate applications and agent websites. These are mostly used by real estate agents for their websites, though.
MLS access is restricted to licensed real estate agents. This access costs ​from $20 to $50​ a month, and there are additional fees when agents link their own websites to the system. Real estate agents also pay fees to belong to their local real estate boards. Once an agent becomes a member of the MLS, they are issued an agent MLS ID – this can also be called a Public ID or an Agent ID.
This contains numbers, letters or both and is used as a login or username. When logging in, the system matches up the MLS city with the MLS ID. Should anything go wrong during the login process, the agent will receive an error message that their ID is not valid. When this happens, the agent should ensure that the MLS city and MLS ID are correct. If they are, the agent can call MLS at 1-800-878-4166.
For Sale by Owner Properties
For sale by owner (FSBO) properties are not listed in the MLS but may be found on the best sites for real estate. They can also be searched on For Sale by Owner, which has its own identifying number system that includes numbers only. Like other real estate websites, this has property descriptions, pictures and financing options. The process of listing and buying an FSBO property can be a bit more complicated, though.
Real estate agents usually charge ​5 to 6 percent​ commission, and it is less costly to sell a home on your own. However, you will not have the guidance or agent expertise to help you get the best price. Their knowledge is also vital when it comes to dealing with picky buyers and gathering the necessary documentation. Besides all that, FSBO sellers cannot list on the MLS; an FSBO buyer may be able to work with a buyer's agent, however.