Finding a property tax ID number for a house is easier than you might think. The local or county databases you need to search for property tax ID numbers are free and publicly available. Fortunately, many of the offices that maintain these records also have online property searches you can perform, so you should have the property tax ID number you're looking for right at your fingertips.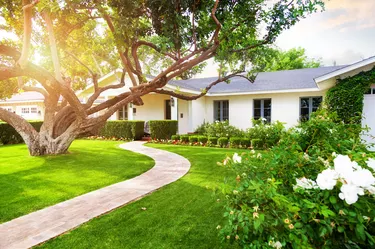 Where to Look First
You can find a property's tax ID number in several ways. However, if you're the owner of the house, the easiest way is by looking on your deed or most recent property tax bill. This, of course, is only easy if you happen to have your current bill or deed handy. In the event you do not have your property tax bill, or you are not the owner of the property, you can still find out a property's tax ID number as long as you know the address.
County and Local Databases
Property tax records are kept and maintained by various offices, including the county courthouse, city hall and the county recorder. Although you may have to put in some effort, many of these offices maintain online records you can access for free. If you have internet access, you can go to your local county assessor's or county auditor's website and perform an online property search from the comfort of your own home. Because property records are public record, you don't need to be the owner to perform these searches; however, you do need to know the property's address.
If you don't have a property's exact address, some county or local databases allow you to search using other parameters, such as the property owner's last name or partial street address. Some sites have interactive maps that let you zoom in on specific areas. Note that not all databases will let you search by, or reveal, an owner's name for privacy reasons, and this varies by county or city statute. You will also likely have to register or create an account before being able to access property information.
Sometimes you might find yourself running into a roadblock while searching for property tax ID numbers. If your local office does not have an online database, you can call the number provided on the website to speak with someone who can further assist you, or go down to the office in person for more guidance. Non-governmental property searches are also an option for finding the property tax ID number for a house. But, as the information is a matter of public record, you shouldn't have to pay unless you don't want to do the extra legwork. The Nationwide Environmental Title Research company offers a free, nationwide, public records database you can search that will take you to the county office's website where you can find property data or the contact information you seek.
Other Names for Property Tax ID Numbers
Property tax ID numbers might be known under various names, depending on the county in which they're recorded. Some jurisdictions and offices refer to this number as an assessor's parcel number, assessor identification number, a folio number or a parcel ID number. All of the aforementioned refer to the same ID number, so familiarize yourself with the terminology used by your local assessor's office before starting your search.