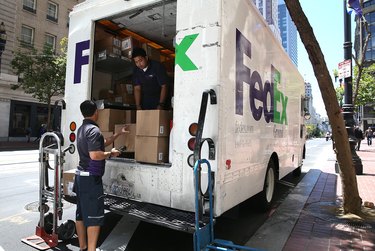 Sending cash through standard mail carries the risk of theft. FedEx offers faster delivery options, with packaging that conceals your money. You'll benefit from using a more secure form of delivery that minimizes the risk of theft, especially when sending larger amounts of money.
Obtain Cashier's Check
FedEx prohibits the shipment of cash so visit a bank or other authorized provider to obtain a cashier's check and fill it out with the name of the recipient. Cashier's checks print on paper with carbon copies so you can keep the carbon copy while sending the actual check.
Select FedEx Mailing Method
Locate and visit the local FedEx shipment site. Choose one of FedEx's express delivery methods to send the package. The delivery times start at same-day delivery and extend to three-day delivery. You will pay more for express shipping but it will get there the next day.
Allow a FedEx employee to assist you in properly packaging and labeling the shipment. Save the receipt for the tracking number. Use FedEx's tracking website to keep track of the envelope's delivery route and recipient confirmation.