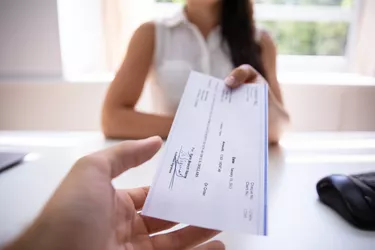 FedEx does not allow you to send certain types of monetary units via its service. This is to protect not only you and your finances, but also its drivers. You can still send money via FedEx – you just have to know how. Reviewing the ways in which you can send payments through this delivery service will help you do it in the safest way possible.
According to FedEx's website: "Money (coins, cash, currency paper money and negotiable instruments equivalent to cash such as endorsed stocks, bonds and cash letters), collectible coins and stamps cannot be carried by FedEx."
This means that you can send money, but you'll need to do it via a check. No coins, bills or other items that can be easily converted to cash. You can, however, send a check, cashier's check or certified check.
You can send checks through FedEx. A ​personal check​ is one that comes with your checking account. You fill it out and sign it. A ​cashier's check​ is drawn on the bank's account and signed by the bank. You give the bank the money and it provides a check the recipient knows will be honored by the bank.
A ​certified check​ is one of your checks, but the money is held by the bank and the banks mark the check as certified. This tells the recipient that the check won't bounce because you can't overdraw your account by writing other checks (because the bank is holding this amount).
To send money via FedEx, write a check or go to a bank and get a certified or cashier's check. Bring your credit or debit card, a personal check or cash to get your check issued. Bring an acceptable ID, such as a driver's license or passport.
Let the teller know what you want to make sure you get the correct form of payment. Make a copy of your check for your records. Once you have your check, visit a FedEx office and have the following ready:
Your check in an envelope or placed into a folded 8.5-by-11-inch sheet of paper
The recipient's name, street address or P.O. box and phone number
A payment method
A way to pay FedEx
While you can pick up an envelope from a dropbox and fill out the paperwork yourself, it's not as secure a method as working with a FedEx customer service rep. For example, a rep will let you know how to insure your package and check your recipient's address and your address to make sure they will work with FedEx's system. If you want to send to a P.O. box, for example, you'll need to use FedEx's SmartPost, which has the United States Postal Service deliver the last leg of the package.
Have your check in an envelope to put into a FedEx envelope – the FedEx customer service rep will tell you which size of envelope to use. Fill out the shipping envelope, which includes checking any boxes for special shipping, such as ground, overnight and insurance. Make sure to get a receipt and a FedEx tracking number. Send the tracking number to your recipient – this will let her know when the package arrives so she can go out and get it before porch pirates can.