Some businesses and service providers are leery of accepting personal checks, as these checks are not guaranteed in any way. Instead, the organizations may require you to pay with a cashier's check. This check is purchased and paid for at your local financial institution. After you turn over the money and the associated fee, the bank will issue the cashier's check. The check is then backed by the bank's funds, which is far less risky. Once you have the cashier's check, you'll need to know how to send it to the recipient.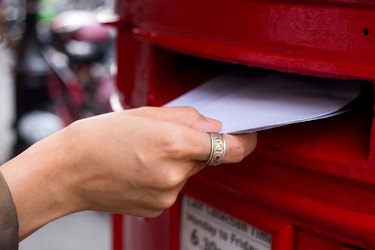 The United States Postal Service
There is no reason you can't mail the cashier's check the way you would mail any other check you send out for bills. If you'd like, you can always opt to take advantage of the USPS's Priority Mail, which comes with complimentary tracking and up to $50 in insurance. The check will reach the recipient in one to three business days. There's also Priority Mail Express if you need the cashier's check overnighted. You'll get up to $100 in insurance, and you can have the other party sign for the envelope so you know it was delivered.
FedEx or UPS
Federal Express can be used to send your cashier's check. The company has a host of shipping options that include same-day, next-business-day and two- to three-business-day delivery. If time is not a factor, you can go with the cheaper ground option. Each comes with the choice to add a FedEx delivery signature service, so there's no doubt as to whether the individual received the cashier's check.
Should a UPS facility be closer than FedEx, you can mail the check with them instead. UPS has the traditional ground delivery, as well as UPS Next Day Air, UPS 2nd Day Air, UPS 3-Day Select and UPS Express Critical. UPS even provides customers with a host of tracking tools, like UPS MyChoice and UPS Mobile, so you know when the cashier's check has been successfully delivered.
Online Banking
Individuals who take advantage of online banking will find many financial institutions that actually issue and mail a cashier's check for you without you ever having to leave your sofa. For example, you can log in to your Wells Fargo account from either a laptop or cell phone via the bank's mobile app and order a cashier's check. There is a $10 fee for the check and an $8 delivery fee. You just need to provide the recipient's name and mailing address when placing the order.