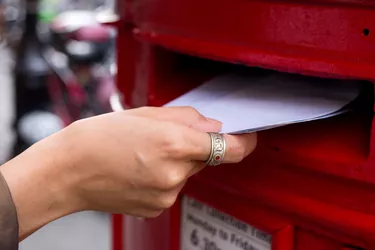 Although personal checks are universally acceptable, some businesses and service providers are leery of accepting personal checks, since they are not guaranteed in any way. Instead, the organizations may require you to pay with a more secure form of payment, such as a cashier's check. This is especially true for transactions that involve large amounts of money, such as making a down payment on a house or purchasing a car.
Once you have the cashier's check, you'll need to know how to send it to the recipient.
Option 1: The U.S. Postal Service
There is no reason you can't use the post office to mail the cashier's check the way you would mail any other check you send out for bills. If you'd like, you can always opt to take advantage of the USPS's Priority Mail, which comes with complimentary tracking and up to ‌$50‌ in insurance. The check will reach the recipient in one to three business days. There's also Priority Mail Express if you need the cashier's check overnighted. You'll get up to ‌$100‌ in insurance, and you can have the other party sign for the envelope so you know it was delivered.
Federal Express can be used to send your cashier's check. The company has a host of shipping options that include same-day, next-business-day and two- to three-business-day delivery. If time is not a factor, you can go with the cheaper ground option. Each comes with the choice to add a FedEx delivery signature service, so there's no doubt as to whether the individual received the cashier's check.
Should a UPS facility be closer than FedEx, you can mail the check with them instead. UPS has the traditional ground delivery as well as UPS Next Day Air, UPS 2nd Day Air, UPS 3-Day Select and UPS Express Critical. UPS even provides customers with a host of tracking tools, like UPS MyChoice and UPS Mobile, so you know when the cashier's check has been successfully delivered.
Individuals who take advantage of online banking will find many financial institutions, like Capital One, that actually issue a cashier's check online and mail it to you without you ever having to leave your sofa. For example, you can log in to your Wells Fargo or Bank of America account from either a laptop or cell phone via the bank's mobile app and order a cashier's check. There is a ‌$10‌ fee for the check and an ‌$8‌ delivery fee. You just need to provide the recipient's name and mailing address when placing the order.
Frequently Asked Cashier's Check Questions
What Is a Cashier's Check?
A cashier's check is a check that is issued directly to a payee by a bank or credit union and is drawn on the bank's funds. This is different from personal or business checks, which are drawn on funds available in customer accounts with the financial institution. Cashier's checks are far less risky than checks drawn on personal accounts.
A certified check is similar to a cashier's check but is drawn on the payer's personal account. In this case, the bank stamps the personal check as certified to guarantee that the funds are being set aside to pay the check when presented.
How Do I Get a Cashier's Check?
A cashier's check is purchased and paid for at your local financial institution, which could be a bank or credit union. The bank will take funds from your checking account or savings account for the full amount required and issue the cashier's check. The check is then backed by the issuing bank's funds, which is far less risky.
What Is Cashier's Check Fraud?
Check scams with cashier's checks aren't common, but they do happen. For example, you may get a random phone call saying you just won a lottery, but you need to send in a cashier's check with the fee to enter to receive your prize. Of course, you will never receive your alleged lottery winnings. The bottom line is that if it sounds too good to be true, it's probably not.
Another scam occurs if you are selling merchandise online, and the buyer pays you with a cashier's check. You ship the merchandise only to find out later that the cashier's check is a phony.
If you're ever suspicious about a cashier's check, you can call the issuing bank to verify its validity. Look up the phone number of the bank online, and don't use the telephone number listed on the check because it's probably also a phony.
Is a Cashier's Check the Only Way to Send Money?
If you don't have access to purchasing a cashier's check, you could use a money order to send money to someone. A cashier's check and a money order are both secure payment methods. However, there are some differences.
Banks and credit unions issue cashier's checks. The bank takes the funds from the customer's bank account for the amount of the check, issues the cashier's check drawn on the bank's funds and charges a check fee. A bank employee signs the check. Although cashier's checks can be for any amount, they are typically used for large payments.
Money orders are mostly used for smaller amounts. Banks can also issue money orders, but most of the time money orders are purchased at retail locations, such as grocery stores and check-cashing outlets. Money orders must be prepaid with either cash, a debit card or travelers checks. Fees for money orders are usually small.