A money order is a form of payment in which the paying individual prepays the amount shown on the money order. Thus, the payee does not have to worry about the money order bouncing (such as when a personal check is used). Likewise, a cashier's check is a check guaranteed by a financial institution and treated like cash. Many individuals and merchants prefer money orders or cashier's checks over personal checks for this reason. Traditionally, money orders were purchased at financial institutions or the post office. Now, individuals can purchase and send money orders and cashier's checks online. Learn how to buy and send a money order transfer or cashier's check on the Internet to save yourself time.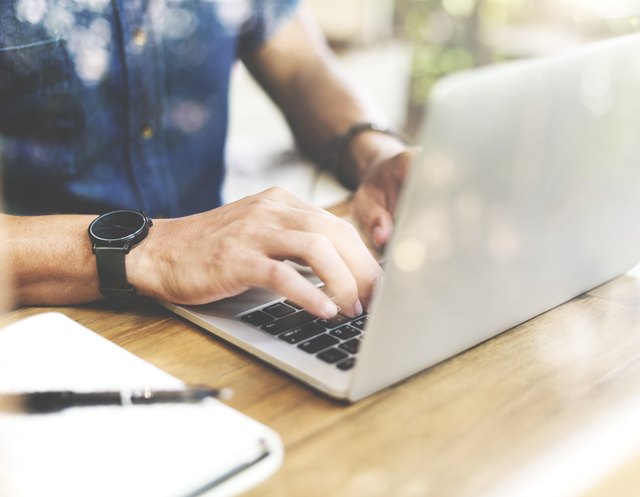 credit: Rawpixel Ltd/iStock/GettyImages
Step
Collect the information you need to send a money order or cashier's check. You will need the full name of the payee and his address and phone number, as well as the exact amount that you wish to pay. To purchase the money order online, you will also need a U.S. bank-issued credit card or debit card.
Step
Visit the Western Union money transfer website (see "Additional Resources," below). Western Union is one of the largest providers of money order and cashier's check services in the United States, and is a trusted name when it comes to buying and sending a money order.
Step
Click "Send Money" in the "Transact Online" section of the Western Union homepage. This begins the process of sending a money order or cashier's check through the Internet. A Western Union online money transfer functions the same as both forms of payment, but is transmitted electronically.
Step
Select the state from which you are sending the money from the drop-down menu on the screen. Then, select the country to which you are sending money. Note that sending a money order or cashier's check to a country other than Canada or the United States may result in higher fees.
Step
Click the radio button next to the "Money in Minutes" service. This essentially functions as a money order or cashier's check transfer, and the payee may it up at any Western Union agent locations. Alternatively, you can directly wire money to the payee's bank account if he would prefer this method.
Step
Click "Continue" and follow the prompts to complete the money transfer process. Once you have paid for the money order or cashier's check, Western Union will notify the payee that he has a money order to pick up.