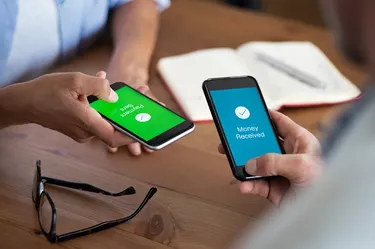 Walmart allows you to send money to someone that they can pick up at another Walmart or at any MoneyGram outlet. There is a fee for doing so. You can also buy and cash money orders, which work like prepaid checks, at a Walmart Money Center inside a store.
Have Walmart Send Money
If you need to send someone money, you can do so at Walmart. Visit a store with a Walmart Money Center and use the Walmart 2 Walmart service to send money someone can pick up at another Walmart location, or the Walmart 2 World service where the recipient can pick up money at any MoneyGram location. MoneyGram locations include convenience stores, grocery stores and check cashing outlets around the world.
You can expedite things by starting the money transfer in the Walmart smartphone app before you visit the store. Bring the amount of cash you want to send to the store, plus the fee for transferring money. The fee varies based on how much money you are sending and can be looked up on Walmart's website. Remember to keep your cash secure, and try not to let anyone see you carrying large amounts of cash for safety's sake.
The cash will generally be available in just a few minutes for pickup. In some cases, the money transfer company may need to do a more extensive review of a transaction. Depending on where you're sending the money, you may also be able to have the money sent to someone's bank account or even have it delivered.
Buy Money Orders
You can also buy money orders at Walmart through MoneyGram. A money order functions similarly to a prepaid check. You pay a small fee to obtain one and then can send it by mail or hand-deliver it to your desired recipient. A money order can be cheaper than sending money instantaneously, but it can take longer to get to its recipient if you can't immediately deliver it.
Once someone has a money order addressed to them, they can cash it or deposit it similar to a check. Walmart will also cash MoneyGram money orders, as well as checks. Keep a money order you plan to send or cash secure, because there's often a fee to replace one and there can be a delay. If one is stolen or lost, report it to the company that issued it right away.
Buy Prepaid Cards
Walmart also offers prepaid cards that you can use to make purchases through the Visa or MasterCard network. Visit a Walmart Money Center to learn more about Walmart prepaid cards and how you can use them.
You can also use these cards to send people money and to receive direct deposits of payments like your salary. There may be fees depending on how you use the card, although there's generally no additional fee to send people money. Recipients can put the money on a Walmart card of their own or move it to a PayPal account.
Other Ways to Send Money
Visiting Walmart isn't the only way to send someone money. Many other stores offer the ability to send money with MoneyGram or its rival Western Union for a fee. MoneyGram and Western Union offer similar services, so it's good to compare prices and see what is more convenient for sender and recipient.
You can also send money digitally using services like PayPal, Venmo and Zelle. Each of these services has a different fee structure and policies governing how you can send and receive money and how soon you can receive it. See which services best meet your needs.