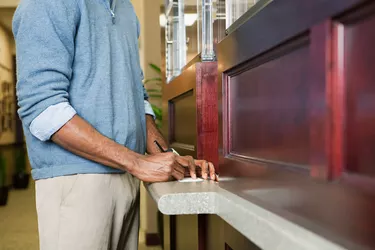 A cashier's check is also known as an official bank check. They are one in the same. The cashier's check draws from a credit union or bank's funds and not from an individual's personal bank account. In other words, it is backed by the bank. A cashier's check is different from a money order and a certified check.
A money order is purchased with cash, check, credit card or debit card. The difference between a check vs. money order is that you don't have to have a checking account for a money order, and it can be purchased at various places. A certified check is guaranteed by the check writer's bank or credit union that the personal checking account has enough funds to cover the amount of the check.
Where Can I Get a Cashier's Check?
You can get a cashier's check from your financial institution. For example, a U.S. bank or credit union will issue cashier's checks as a form of payment when an individual is making large purchases. The issuing bank takes the funds out of the individual's bank account and places them in the credit union or bank's account.
The cashier's check is written off the financial institution's account. It has the credit union or bank's account number and routing number on the check, not the individual bank account holders. A bank employee will sign the cashier's check. This guarantees the payee that the check will have sufficient funds and there won't be an overdraft. Real estate transactions often use a cashier's check to make a large payment.
Some banks, like Wells Fargo, will let you order a cashier's check online. They do, however, charge an additional fee. But most of the time, be prepared to go into the bank branch to order a cashier's check.
Common Questions About Cashier's Checks
It makes sense for sound personal finance to understand cashier's checks. Regular checks won't always be accepted. This is particularly true in real estate purchases. That's when a member Federal Deposit Insurance Corporation U.S. bank comes in. As the check issuer, they guarantee sufficient funds behind the cashier checks. But you might have some other questions when you go to get one. Here are some common FAQs.
Can I Get a Cashier's Check at a Bank Where I Don't Have an Account?
Most financial institutions only provide this service to account holders. In other words, you must have a checking account or savings account in the bank or credit union. A noncustomer may not be able to get a cashier's check. But there is another option. You can buy a money order with various payment methods at several locations.
You use a money order like a cashier's check, which is guaranteed sufficient funds since you have paid for it upfront. Different venues where you can purchase a money order are the U.S. Postal Service, grocery stores, some convenience stores, check cashing stores and Walmart.
Be aware that these are not financial institutions and are not a member FDIC.
How Much Does a Cashier's Check Cost?
Different financial institutions issue cashier's checks with varying amounts of fees. For instance, Bank of America charges $15 to issue a cashier's check and Wells Fargo charges $10 for the same service. Both will not issue cashier's checks to a noncustomer. You must have a savings account or checking account with them.
What Is Required to Get a Cashier's Check?
Besides having a bank account with most financial institutions, you will need a few items to get a cashier's check. A photo ID, like a driver's license, is required. The amount of the check cannot exceed what's in your bank account. You must have sufficient funds.
The payee's name must be supplied to the bank or credit union. For example, a financial institution cannot issue cashier's checks that have a blank payee.