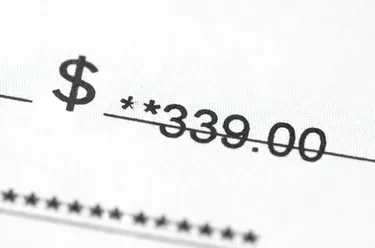 If you need to send secure funds and you choose not to use a wire service (either provided by your bank or by a private wire service company), you can send a bank check instead. A bank check can take two forms: a certified check and a cashier's check. There is a slight difference between the two, but both are more secure than cash.
Cashier's Check
Step 1
Check your account balance at your local bank. You will need to visit a branch office in person to get a cashier's check, but first you must confirm funds are available in your account.
Step 2
Step up to a teller station and ask for a cashier's check in the amount you need. The teller will withdraw the funds from your account at that bank and place them in an escrow account. This is a "holding area." You must specify the payee on the check .
Step 3
Send the cashier's check to the payee. You will not be able to access the funds withdrawn from your account. They can only be released when the payee cashes the cashier's check. (You can make the check out to yourself, however).
Certified Check
Step 1
Collect the necessary funds to write a certified check. This option is best utilized if you do not have a current bank account or you wish to use a different bank than your own.
Step 2
Take the money in cash to the bank. Hand the cash to the cashier and ask for a certified check in the desired amount. The teller will take the funds, place it into the bank's account. This is different from an escrow account. An escrow account can hold funds for a variety of different cashier's checks.
Step 3
Make the check out to the appropriate payee. You can now send it to the appropriate receiving party. Only when the payee cashes the certified check will the bank release the funds you brought in initially.