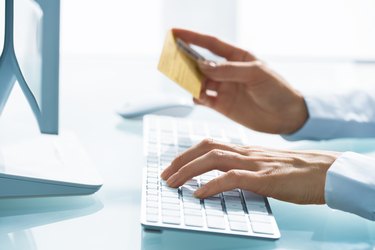 Department store chain Sears offers three types of credit cards through Citibank. Sears Mastercard offers in-store benefits including discounts but can serve as a regular credit card in other locations that accept Mastercard as payment. Card holders not wanting to send in a check with the paper bill can instead rely on online payment.
Visit Website to Pay
Visit the Sears Credit Card Options Manage Your Account website. Existing users can log in, but first-time users will need to regiser for a free account. Creating an account requires knowing or having on hand the credit card account number. Log in after the website verifies the account information.
Follow the Prompts
Web designs can change with time, so users should learn to find and follow the appropriate prompts. Look for a link or tab labeled with words pertaining to bill payment and select that option. Select the bank account that will make the payment, input or select the amount to pay and select a transaction completion date. Note that you must pay the bill before 5 p.m. on the due date to avoid potential penalty.