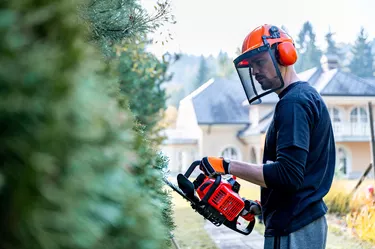 Having picture-perfect landscaping around your home comes with a lot of perks. Curb appeal booms, which can mean dollars and cents if you're thinking about selling. It can add ​15 to 20 percent​ to property value, according to the American Society of Landscape Architects. And a few well-placed trees and shrubs can cut down on all that sunlight streaming in your windows in the summer, lowering your air conditioning bill.
But maintaining that lawn and foliage - and don't forget the yardwork - is an ongoing challenge. This may not be a big deal if you're happy spending your weekends in the sun (and rain) behind your mower to deal with your DIY lawn care. Otherwise, you may be thinking of paying out of pocket to hire a professional lawn care service. Is it worth it? That depends. There are a few pros & cons.
Advantages of Professional Lawn Care
Proper lawn care goes well beyond mowing your grass. Lawns need periodic treatments for a variety of issues, and a lawn service will keep on top of that schedule. These treatments often require substances like weed control chemicals, which you might not want to personally store in your garage or backyard shed, particularly if you have children.
The biggest disadvantage of hiring a lawn service might be the cost, but you'll also have to purchase gear and supplies if you decide to tend to your landscape yourself and your results may not be as nice.
And about that funky-looking weed that keeps growing back in your garden. Is it dangerous to you or your pets? A professional law service would know, and they would know how to finally get rid of that tenacious beast, too.
Then there's the value of your time. Do you ​really​ want to spend a portion of your days off from work grubbing in the dirt? Will your landscaping look as good as it would if you entrusted it to a lawn care provider who makes their living doing this sort of thing? That's not even to mention that many homeowners could end up doing more damage than good if they don't understand the importance of issues such as aeration and soil health.
Disadvantages of Using a Lawn Service
There are lawn care businesses…and then there are lawn care businesses. Sure, you can pay your neighbor's teenager to take care of the task for you. But in all likelihood, you'll miss out on many of those pros of hiring a professional.
That said, you'll want to make sure that your professional really is a professional. Hiring a fly-by-night lawn service can cost you a lot of wasted money and balloon into many more headaches than if you decide to use your iffy skills handling the challenge yourself. A reputable lawn care company should provide you with a contract in advance, delineating issues like scheduling, what you'll get in exchange for your money and any issues that are your responsibility such as remembering to water the lawn once in a while.
You might also want to seek word-of-mouth referrals and check into licensing issues. Bonafide landscape architects must pass an exam and be licensed in 48 states, but you may not be interesting in hiring this extent of expertise. Nonetheless, a reputable business may be required to have an operating license in your city or county.
How Much Does a Lawn Service Cost?
Of course, the biggest disadvantage of hiring a lawn service might be the cost – money you might want to put to other things. How much a service will set you back can vary a fair bit from service to service, depending on the extent of the work you're asking them to be responsible for. Keep in mind that a cringe-worthy price tag from one service might include a lot of work and tasks on an ongoing basis, while that rock bottom quote might be for simply lawn mowing and nothing else. You'll be charged more for any extras, so you may be spending about the same in the end.
The bottom line is that your yard is going to cost you money one way or the other. You're in a position where you'll either have to pay someone else to take care of it for you, or purchase gear and supplies to tend to your landscape yourself. Don't stop at the mower. Include costs for fertilizers, seed, special tools like edgers and leaf blowers, and new foliage and shrubs as well. You may be looking at a significant outlay of cash.
Is a Lawn Service Worth the Money?
Another major factor is how much your time is worth. It's one thing if you're going to be doing landscape work with your kids on weekends, turning it into a version of family time. It's quite another if you're planning to do it in lieu of furthering your education or your career, as tending to your own landscaping might be a lot more time-consuming than you'd expect.
You might be able to shave the cost of that gym membership off your budget if you're toiling in your yard and working up a sweat on weekends. But you might not be capable of this ongoing task if you're not at least somewhat physically fit, or if you're older or somehow impaired.