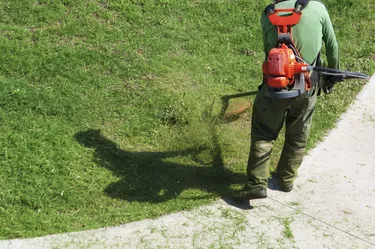 Ever wondered how much to tip or whom to tip when a lawn service comes to your home? Observe the quality of service your lawn service provides from spring through fall. Lawn maintenance workers are mostly tipped around the holiday and growing seasons -- when more residents rely on their services. Master the etiquette of tipping service providers to avoid mishaps and ensure a job well done.
Step 1
Give cash to service providers whose work is superb or who you believe deserve a little extra something to say "Thank you." The holiday season is an ideal time to show how much you appreciate lawn workers -- especially since many people in this field don't get much work in the off-season. An amount equal to the cost of one session when you're satisfied with your lawn care usually is appropriate.
Step 2
Check the company rules before handing out cash, since some services frown upon the action. Have a small gift such as baked goods available for such occasions.
Step 3
Offer an extra $5 to $10 for lawn care workers who visit weekly or biweekly. The amount can vary throughout the year for those who go above and beyond in lawn care service. Write, call, or e-mail the employer to commend a particularly satisfying job -- which can result in more benefits than a tip.
Step 4
Remember the little things, especially if you are cash-strapped. Offer snacks and drinks to hard workers who perform tough jobs in grueling weather. Workers in physically challenging positions will appreciate such a thoughtful gesture.
Tip
If you are uncertain whether the lawn service operates by contract, call ahead of time to see if tips are expected.
Warning
If two or more workers manage your lawn, either provide a lump sum for the crew to split or hand each individual a tip in an envelope to avoid conflict and resentment.