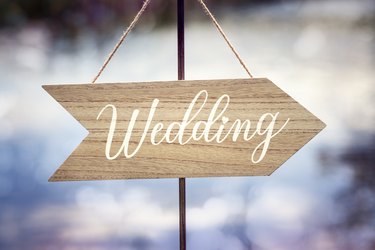 There are weddings ... and then there are weddings. You can stand hand-in-hand outside on a beach with your beloved, or you can plan a destination wedding and rent out an entire suite in Maui. The beach is going to cost a lot less, and that's why the idea of "average" wedding costs can get tricky. Some are similar across the board, while others can be quite different. Roughly half of all couples end up spending more than they budgeted for, according to the Better Business Bureau.
Location, Location, Location
Weddings are more expensive in some states than in others, along with the cost of living. It will cost you more to get married in a major metropolitan area. New York City has consistently reigned as one of the most expensive wedding locations. California tops most lists as well. Utah and Arkansas provide the least expensive locations.
As for the "I do" part of the wedding, the average bride spent about ​$1,600​ on her wedding dress in 2020. Plan on another ​$1,800​ if you want to hire a videographer. But the Better Business Bureau puts capturing your memories much higher at ​more than $2,700​, at least if you want a photographer rather than just video. Flowers can run you another ​$2,500​ or so. On the bright side, you'll probably only have to pay your officiant about ​$275.​
Your reception will undoubtedly be the most expensive aspect of your wedding. The average cost was ​$22,500​ in 2021, according to The Knot. That number covered about ​130 guests​.
Don't overlook the cost of all the "little" incidentals that will make your occasion complete. Some of them start well in advance of your special day. Invitations will run you about ​$590​, according to The Knot. Plan on dropping another ​$1,900​ for the rehearsal dinner.
The Overall Cost of a Wedding
The average cost of a wedding was ​$19,000​ in 2020, and that was way down from 2019's average of ​$28,000​. But 2020 was the year of COVID, so this might not be a good measuring stick.
Weddings and receptions were scaled down and postponed dramatically during the pandemic. It was quite a blow for wedding vendors, and they're reportedly bouncing back by increasing prices. It's anticipated that the average cost of a wedding might reach as high as ​$31,000​ in 2020. The Better Business Bureau goes even higher, in the neighborhood at about ​$35,000​.
You might find that you can cut costs in a few ways that won't totally derail your special day. Hiring a DJ to provide music at your reception instead of a live band might save you $2,500 or more.
Think about holding the ceremony and the reception at the same venue if you don't feel strongly about marrying in a house of worship. This can cut limousine costs significantly, if not entirely. Transportation for your big day could otherwise run about ​$800​. Consider make-them-yourself favors or gifts if you or someone close to you is creative enough to pull it off.
And don't overlook the value of a wedding planner. Your first kneejerk response might be that you can save a ton by doing everything yourself. But you might save as much of that cost if not more without giving up much in the way of niceties you always dreamed of for your big day. Professionals in the wedding business have ongoing relationships with vendors that might get you better deals on various expenses, and that can really add up.