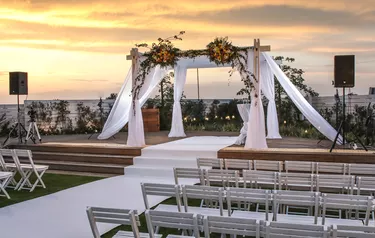 As pandemic restrictions lift, more couples than ever are turning their attention to walking down the aisle. But there's a price for all that wedded bliss. Wedding costs are on the rise, which means couples will pay more than ever to put on the event.
Increased Demand Boosts Prices
Couples are ready to get married, but that means wedding-related businesses are seeing a surge in business. That also makes wedding planning a challenge, especially if you're on a budget. You'll find yourself competing with other couples for everything from venues to florists to wedding dresses.
All that competition means prices are heating up as the number of weddings increases. The average price of a wedding is estimated to be ​$24,300​ in ​2022​. When compared to ​$22,500​ in ​2021​, it's clear that prices are going up.
Even with prices surging, there are some things you can do to keep your wedding costs low without using a wedding planner.
Inflation and Rising Costs
High demand isn't the only factor driving up prices this year. As you set your wedding budget, you'll need to adjust for inflation. Prices are already up ​7.5 percent​ from last year at the same time, and experts are growing concerned that this might not be a temporary situation related to the coronavirus pandemic.
Although event planners can add to your overall cost, with couples spending ​$1,000​ to ​$2,000​ on average, this could be a good year to consider hiring one. Planners know the wedding industry for your area and can help you set and stick to a budget.
Destination Wedding Costs
If you plan to leave home for your big day, the average cost of a wedding can increase substantially. Travel costs are on the rise as vaccinated travelers take long-delayed vacations. In fact, the summer of 2022 is expected to see high demand for airfare and hotels.
Sometimes a destination wedding can lower the overall price tag of your wedding, though. Requiring guests to travel to celebrate your big day usually reduces the number of attendees, which cuts down costs on catering and reception venue rentals. If guests pay for their own travel and accommodations, you'll just need to set up the wedding and reception and buy your gown.
With destination weddings, location is everything. Weddings in San Francisco, California and New York City are likely to cost more than weddings in Florida or Virginia due simply to the cost of living in those areas. Some all-inclusive resorts even offer free weddings for the price of a stay.
Even with prices surging, there are some things you can do to keep your wedding costs low without using a wedding planner. Here are some tips.
​Be date flexible:​ Most brides choose a weekend during the summer and early fall to get married. Get married on a weekday and steer clear of the wedding season. One study found that ​73 percent​ of weddings take place between May and October, so this may be a good year for a Christmas wedding.
​Book wedding venues early:​ Stiff competition means popular wedding venues will be fully booked, months in advance. Be prepared with a backup location for the wedding ceremony and wedding reception in case your top choice isn't available.
​Cull your guest list:​ Big wedding extravaganzas are pricey due in large part to the number of guests. Keep your list low, limiting it to your closest family and friends, to make it easier to have the wedding you want without the high cost.
​Reduce invitation costs:​ Wedding websites have become a must-have for marrying couples. You can cut down on the paper by mailing a simple ​one-page​ insert, then directing guests to your website for reception and dress code information and to RSVP.
If this is the year you're walking down the aisle, you'll be joining the group of couples who waited through the pandemic to get married. But you can still have the wedding day of your dreams. You just might need a little more flexibility on dates, times and places, and you may need to keep your focus on celebrating your nuptials with the people you care about most.