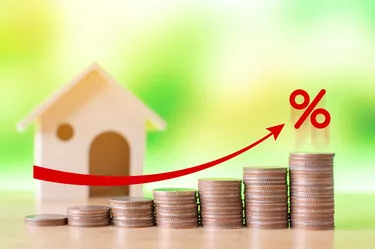 If you're looking into buying a home this spring, you've likely seen mortgage rates come up as a trending topic. While the housing market remains hot with low inventory and high demand, recent actions from the Federal Reserve have increased the cost of borrowing and affected both sellers and buyers. These rate hikes can affect your decision to buy real estate right now, as well as change how much you can budget for a home. So, you'll want to understand what's going on so you can make an informed decision and find the best rate.
Why Mortgage Rates Have Changed
During much of the pandemic, Americans have enjoyed low interest rates that encouraged them to proceed with becoming homeowners. These low mortgage interest rates occurred due to the Federal Reserve setting the federal funds rate to near zero to help the economy grow during a time when many Americans were unemployed or otherwise facing financial hardship. As a result, average mortgage rates went from ​3.7 percent​ in January 2020 to ​2.68 percent​ in December 2020 and then to ​3.09 percent​ in October 2021.
The Fed's reasoning for rate decreases is to encourage Americans to borrow and spend. However, the Fed also decides on interest rate increases in response to rising inflation and a strong economy, and this encourages saving and discourages borrowing. As of February 2022, the U.S. Bureau of Labor Statistics reported a year-to-date consumer price index of ​7.9 percent​ – far above the ​two percent​ inflation target. The Fed responded in March 2022 with a ​0.25 percentage point​ rate increase in light of inflation and other indicators.
As this action has made borrowing more expensive, you'll find that today's mortgage rates are higher than last year. As of April 2022, current mortgage rates are approaching ​five percent​ so that borrowers experience a higher mortgage payment and more interest paid over the loan term. For example, a $200,000 30-year fixed-rate mortgage would include a principal and interest payment of ​$852.95​ at a ​3.09 percent​ rate versus ​$1,049.33​ at a ​4.8 percent​ rate. The difference in payment adds up significantly over the years.
Effects on Buyers and Sellers
During the pandemic, sellers have benefitted from high demand and rising home prices, while buyers have enjoyed low interest rates but dealt with a limited housing inventory. For example, Zillow shows that typical home prices rose around ​20 percent​ from around ​$283,000​ in April 2021 to ​$331,500​ by February 2022. While this price increase has encouraged people to sell their homes for a profit, first-time homebuyers especially experienced difficulties finding a suitable property that was affordable.
But now that the average mortgage rate is rising, buyers are facing both rising interest rates and high home prices. This means you can find yourself needing to set a much lower desired home price so that you can afford your monthly payment. In addition, lenders use your debt-to-income ratio in deciding the mortgage amount you can get, so you might end up needing a higher down payment to lower your loan amount and mortgage payment for an expensive home purchase.
Sellers also experience some effects of rising rates since they may feel less encouraged to put their homes on the market if financing a new home will be too expensive. In addition, as fewer homebuyers find it affordable to get a mortgage, sellers can end up with fewer people willing to purchase their properties. Over time, this can lead to less demand for homes so that sellers experience a longer home sale process and housing prices may cool down.
What Else Affects Your Mortgage Rate?
While the Fed's actions have an effect, keep in mind your mortgage rate depends on many other factors as well. For example, going with a ​30-year​ mortgage loan term versus a ​15-year​ term usually means a higher interest rate. The loan type and amount, your down payment and the location of the property also play a role. In addition, a good or excellent credit score leads to a lower interest rate than someone with fair or poor credit.
You also can choose different interest rate structures. For example, fixed-rate mortgage loans are common and more predictable since the rate never changes over the loan term. On the other hand, an adjustable-rate mortgage can go down or up over the course of the loan. Therefore, an adjustable-rate loan can advantage you if market rates go down but disadvantage you if they rise.
To determine whether you should proceed with a home purchase right now, consider the ongoing market conditions. With home prices high and interest rates rising, it can be a bad time to buy a home, especially if your desired area has low inventory and high competition. In that situation, you can end up bidding more on a home to beat other interested buyers, and this can mean an even higher mortgage payment that's harder on your budget. However, if you urgently need to move, you might proceed anyway.
With home prices high and interest rates rising, it can be a bad time to buy a home, especially if your desired area has low inventory and high competition
Your current personal finance situation also matters since you'll need significant cash reserves for your down payment and closing costs even when mortgage rates are low. For example, if you lack ​20 percent​ for a down payment, you can end up paying private mortgage insurance that further boosts your mortgage payment. If your credit score isn't ideal, it might be hard to qualify for a mortgage loan, or you can get a worse rate. In these cases, it may be worth waiting until home prices cool down or you qualify for better rates.
Since many factors come into play, you can try exploring the typical home prices in your area and consult a mortgage calculator to estimate how buying a home would affect your finances. You can enter a home price, down payment, interest rate and loan term to see your possible monthly payment with principal and interest. The calculator also considers items like PMI, taxes and insurance. Speaking with a personal financial advisor or lender is also a good idea.
Getting the Best Mortgage Rate
Despite the changing mortgage interest rates, you can still take steps to get the best offer and reduce your interest expense. One important step is to check with multiple lenders for quotes and compare rates for different loan programs such as conventional, FHA and VA loans. You can also consider purchasing discount points and looking into credit unions for better rates. In addition, consider ways to improve your credit score and save up for a down payment amount that lets you avoid PMI.
After you get a mortgage, you can consider the option of refinancing later when interest rates go down. However, you'll want to keep in mind the refinance process comes with its own upfront costs, fees and application process. Therefore, you'll need to consider factors such as your home value, length of time you plan to live in the home and your financial situation to decide if you should take advantage of lower refinance rates.