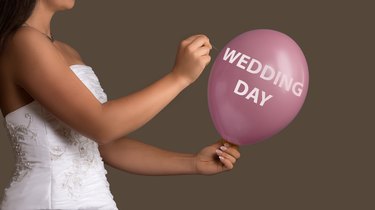 A wedding is an expensive event. With an average wedding cost of ​$28,000​ and the uncertainty seen during the pandemic, it's not unreasonable to want to protect that investment. Wedding insurance may help offset the financial losses for a canceled wedding, but coverage is limited.
What Is Wedding Insurance?
Usually falling under the industry term "special event insurance," wedding insurance provides compensation for losses you suffer if an event can't go on as planned. If something happens, you simply file a claim and an adjuster determines whether your loss qualifies. Special event insurance coverage has become especially relevant due to pandemic uncertainty, as couples hesitate to plan too far in advance.
But before purchasing a wedding insurance policy, it's important to make note of what conditions will and won't be covered. If a major weather disaster disrupts your big day, your insurance can kick in to cover some of your losses. But if you simply get cold feet or run off with the best man, you'll not only have to pay for the wedding, but you'll have lost all those insurance premiums you paid.
What Wedding Insurance Covers
Coverage can vary from one provider to the next, so it's essential to read the fine print. Generally speaking, wedding insurance providers will pay out for the following incidents.
​Extreme weather:​ Event insurance covers cancellation due to weather events that either prevent the wedding or keep top players from being able to attend. Those can include hurricanes and blizzards but check with your insurer for specifics.
​Illness and unexpected deaths:​ If a close relative or a member of the wedding party can't attend due to illness or unexpected death, a special events policy could kick in to cover costs.
​Officiant and key vendor no-shows:​ A couple's big day depends on certain key people. If your officiant or photographer pulls a no-show, you may have to cancel or postpone, which means you'll need to file a claim.
While those are the primary covered events, you can often buy special riders to protect you in other circumstances. Those can include military deployment, honeymoon cancellation and professional counseling for emotional distress suffered due to a wedding cancellation. But if you have homeowners insurance, that policy should cover any loss to gifts stored in your home before, during and after your special day.
Wedding insurance may help offset the financial losses for a canceled wedding, but coverage is limited.
What Wedding Insurance Reimburses
Before signing a policy, it's important to look at what your insurer will reimburse in the event of a claim. Allstate's insurance plan will reimburse any lost deposits and other expenses and pay for the loss of attire like wedding bands. Wedding coverage specialist WedSafe extends coverage to job loss, venue bankruptcy and withdrawal of military leave.
As you're planning your wedding, also check the contracts you sign with vendors. Some wedding venues, caterers and photographers have their own policies for reimbursements in the event of an unexpected emergency.
Cost of Wedding Insurance
Before you start shopping for cancellation insurance, check with your existing insurer for a quote. You might get a bundle discount. This cost varies by insurance company, but a typical wedding event policy falls between ​$155​ and ​$550​, depending on the coverage amount you choose.
As you're shopping, consider whether you want to purchase liability insurance. Liability coverage protects you against bodily injury suffered during the event. Your venue may require wedding liability insurance, as could the vendor providing alcohol, if applicable. You'll need host liquor liability if you want to protect against incidents related to alcohol consumption.
Is wedding insurance worth it? That depends. If you feel your event is at high risk of cancellation due to weather conditions or illness, it could give you the peace of mind you need.