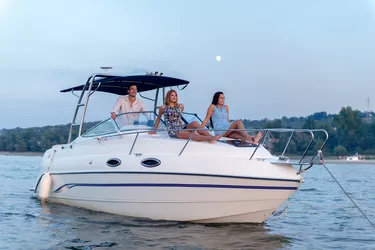 Being on the water is a great feeling. But that feeling comes at a cost. Boats are expensive. So, every boater wants their investment covered. That's why a boat insurance policy is so important. It gives a boater peace of mind regarding both physical damage and any liability. But knowing what it does cover and what it doesn't is essential.
Boats and Homeowners Insurance
A homeowners policy has limited coverage when it comes to a boat. Most homeowners insurance has coverage limits. For instance, if your boat is stolen, it will only cover up to $1,000.
If you have brought personal effects to your boat, such as a computer or phone, and it's stolen, there is some coverage. But if you have a sound system built in the boat or depth finder equipment and it's stolen, there isn't any coverage.
And although a boat owner may have some limited liability coverage if they injure someone, there are exclusions. For instance, motors with specific horsepower are excluded. Homeowners insurance does not cover personal watercraft (PWC).
This often comes under your auto insurance when you're towing your boat behind your vehicle. But double check your policy's coverage limits and exclusions before towing. Although any damage your boat causes to another party in an accident may be covered, you may need a boat insurance policy to cover your boat's physical damage.
The best scenario is to purchase a boat insurance policy.
Boat insurance is geared specifically for boats and personal watercraft. It is made to handle the unique needs of boating.
Physical damage coverage is covered under boat insurance. The amount of coverage is dependent on whether your policy covers:
​Actual cash value (ACV)​: loss settlement based on the depreciated value of the boat
​Agreed value or stated value​: loss settlement based on a value of the boat that the insured and insurance company agreed on
An agreed value policy offers more coverage, but an ACV policy has lower premiums.
Boat insurance covers liability. If you cause bodily injury or physical damage, the liability portion of the boat insurance policy will pay the injured party. Passengers are covered under your boat insurance policy.
Additional coverages may be purchased.
Depending on the type of boat you have and your engine's horsepower, premiums and boat coverage can fluctuate. There are a variety of boats:
sailboat
dinghy
boat and PWC rental
inboard
outboard
The size of the boat is also a factor. Twenty-nine feet or less is considered a boat. A yacht is over 29 feet and will demand a higher premium.
Boat insurance is geared specifically for boats and personal watercraft.
Fishing Equipment Coverage
Even though you have fishing boat insurance, your fishing equipment may not be completely covered. Often boating policies have a $1,000 limit. You'll need the optional coverage of personal effects and fishing equipment to cover all your expensive gear. Most fishing equipment policies will cover personal effects or fishing equipment you bring within 25 feet of the boat. There are many covered items.
fishing rods
reels
tackle boxes
lures and rigs
bait boxes
nets
downriggers
outriggers
rod holders
fighting chairs
Personal effects, like cell phones, cameras and scuba equipment, are also covered. Check a policy's coverages and exclusions when purchasing fishing equipment coverage.
Coverage limits can go up to $100,000.
Physical Damage to Your Boat
Although physical damage coverage pays for necessary repairs, a range of perils may be excluded. You'll want an "all-risk" policy to give you the best coverage. Many perils are covered under an all-risk policy:
vandalism
fire
weather
floating objects
other boats
collisions with docks
Make sure you have a policy covering your boat while it's on land being stored. Inquire about a "layup" discount. This will give you a discount on the insurance cost while your boat is out of the water and stored.
Claims paid are usually based on ACV or agreed value.
A motor's normal wear and tear is not covered under a boat insurance policy. For example, a blown engine will not be covered unless it has a manufacturing defect.
Depending on the policy and insurance company, there are many exclusions for a motor's physical damage. Some rely on whether it's an inboard or outboard. A motor's horsepower is also a factor. Talk to your insurance agent if you are concerned and read the policy before committing.
Liability insurance will pay if you and your boat are found at fault for causing physical damage to another individual's property. In addition, boat liability coverage may cover the cost of repairs and medical bills if you are found liable.
If you're liable for bodily injury, this coverage provides medical payments coverage. This would be available to you or your passengers if they are injured on your boat.
Medical payments coverage helps pay for medical bills, such as X-rays, medications and hospital stays.
Some boat insurance's liability may cover a fuel spill clean-up cost. If a fuel spill damages someone else's property, your boat's liability insurance might cover it. It might also pay for wreckage removal, raising or towing a watercraft from the water.
Discuss coverage limits with your insurance agent.
Is Boat Insurance Required?
If you have an outstanding loan on your boat, your financial institution may require boat insurance. Some states require boating insurance. It is based on the boat engine's horsepower. Check with your state before you go out on the water.
Some marinas will require boat insurance.
Personal Watercraft Insurance
A jet ski, or personal watercraft, has no coverage on your homeowners insurance policy. If you also own a boat, you can't put your PWC on it. A PWC must have its own insurance policy. Your policy covers you whether you're driving it or if you loan it to another individual.
The basic coverages are the same as a boat insurance policy, but there are some exclusions. A personal watercraft insurance policy will not cover a craft that has been modified to increase speed or performance. The PWC policy is not in effect between dusk and dawn. You can not be on the water after dark.
Talk to an insurance agent to see what is covered and what is excluded on a PWC policy.
Additional Coverage Available
Coverage options are available. If you're nervous about being stranded on the water, you might want to add towing to your policy. Emergency towing and assistance coverage is an additional coverage that may be worth the money.
The average cost for on-water towing is $300 an hour. That hour starts when the towboat leaves the dock and ends when your boat reaches the dock. This can add up fast. Check with your insurance agent if there's a deductible or a limited number of tows per policy year.
Another additional coverage is watercraft equipment coverage. This will cover accessories that were not manufacturer installed. A GPS or fish-depth finder are examples of accessories that would be covered.
Buying Boat Insurance Coverage
Check with your homeowners insurance company to see if they can give you a boat insurance quote. Besides the standard homeowners companies, some companies specialize in boat insurance.
Ask about discounts. Many insurance companies will offer a discount on a boat insurance policy if you take a safety course.
Keep in mind that your cruising area or where you boat will affect the premium. For example, freshwater boating has a different premium than ocean boating.