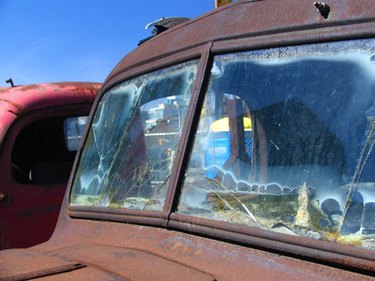 Comprehensive insurance in Georgia allows you to fix certain kinds of damage that do not result from a collision. According to Georgia's laws concerning vehicle insurance, personal property--as well as damage to the vehicle--will be repaired or replaced as a result of fire, flood, theft, or vandalism. Comprehensive insurance in Georgia also covers windshield repair or replacement in certain situations. Make sure you understand how to get this work done for free, because Georgia is not a state that automatically waives the deductible for windshield replacement.
Step 1
Verify that you have comprehensive insurance with your insurance provider by calling your insurer and asking a customer service representative. Comprehensive insurance is not mandatory in Georgia, which means that unless you elect this coverage, you will not have it on your auto insurance policy.
Step 2
Verify there is no deductible on your coverage. There is no requirement under Georgia law that mandates insurance companies must waive the deductible for windshield replacement. Therefore, you must have your comprehensive deductible set to zero. While this raises your premium slightly, you will be able to replace your windshield for free without having to pay any money out of pocket when the time comes to repair or replace it.
Step 3
Call your car insurance company to file a claim. If there is a crack in your windshield that obstructs your field of vision, then your insurance company will generally replace the windshield under your comprehensive policy. The insurance company will want to verify the damage and send a claims adjuster to estimate the cost of the damage. Your insurer will also send a windshield repair company out to where your vehicle is located to repair or replace the windshield. The decision to repair or replace the windshield is generally left to the insurance company's discretion. If the damage is a small chip, the insurance company will repair the glass. If the windshield is cracked, the insurer will authorize replacement of the windshield.
Step 4
Make the car accessible when the repair company representative comes to replace your windshield. You must also sign a completion form after the windshield has been replaced in order for your insurer to complete the claim.