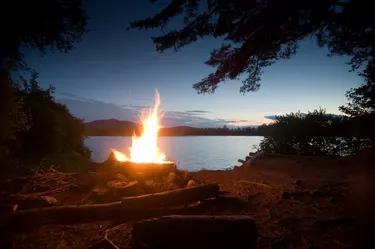 Whether a person needs to insure his pop-up camper depends on the state in which he lives. Even if an individual's state of residence does not require him to insure his camper, he may choose to secure an insurance policy to cover his recreational vehicle since his car and homeowner's policies may only include limited coverage for the camper. An individual's personal characteristics, the type of pop-up camper he owns and the level of coverage he selects factor into the cost of a recreational vehicle insurance policy.
Characteristics of a Pop-Up Camper
A typical pop-up camper is less than 12 feet in length when closed for transport. A pop-up camper generally extends to between 15 and 23 feet when opened. Pop-up campers have collapsible walls that allow a person to open or close them easily and quickly. While pop-up campers can accommodate up to eight people, only larger models tend to include conveniences such as refrigerators and stoves.
Car and Homeowner's Insurance
In general, a person's car insurance policy provides liability protection for an insured if a covered event occurs while he tows his pop-up camper, meaning his car insurance covers his camper while it remains attached to his car. An individual's homeowner's insurance policy typically pays to repair or replace an insured's personal property if his belongings suffer damage or destruction at his home or off site. If an insured's possessions suffer damage while in his pop-up camper, his homeowner's policy may pay to replace them only up to an amount that is less than what the policy would pay if the items suffered damage at the insured's residence, however.
Recreational Vehicle Insurance
A recreational vehicle policy provides insurance against loss, damage or destruction that occurs as the result of a covered event, such as theft, fire, wind, hail and collisions. Depending on the insurance carrier, a recreational vehicle insurance policy may include coverage for liability, emergencies and an insured's personal property. A recreational vehicle insurance policy typically protects an insured from liability in the event of an accident while traveling and in instances where a third party suffers property damage or injury in or around the insured's pop-up camper when parked at a destination. A policy also usually pays for the expenses an insured incurs to maintain an alternative living space if his pop-up camper becomes uninhabitable and he is more than a certain distance from his residence. A policy pays to repair or replace an insured's personal property up to an amount specified in the insurance contract if his belongings suffer damage or destruction because of a covered event.
Cost
An insurance carrier determines the cost of a recreational vehicle policy based on a consumer's age, gender, driving record and place of residence. When calculating a premium, a carrier also considers a pop-up's type, age and construction materials, as well as where a consumer usually parks or stores the camper. A consumer may receive a discounted recreational vehicle policy from an insurer if he maintains other policies, such as his homeowner's and life insurance policies, with the same carrier. If a person chooses a higher deductible, his insurer may offer him a lower premium as well.