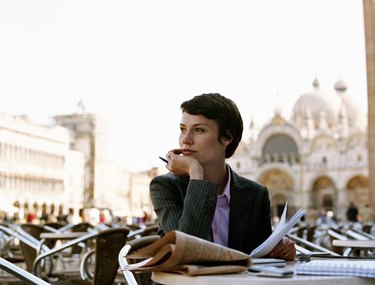 If you work from home full-time or have the flexibility to do remote work, working abroad can be an attractive option. For many digital nomads, remote work travel is a way to see foreign countries and live among different cultures without derailing their career path. Depending on the company you work for and how long you expect to travel, the international experience from working abroad can enhance your work experience and career opportunities.
A U.S. citizen can live and work remotely in another country as long as the visa regulations of the destination country are followed. Find the country's government website or visit USEmbassy.gov and find the information about U.S. Citizen Services. From there, you can find out what kind of permit you need.
Other considerations for jet-setting your home office to a different country include adaptability factors like adjusting to cost of living changes, cultural differences and language barriers.
If your trip is very short-term and more of a vacation, you can get by in most foreign countries with a travel visa. But if you plan to be an ex-pat or tech-pat and go abroad on a more semi-permanent basis while you work, you'll likely need a work visa.
Some countries even make it easy by offering digital nomad or freelancer visas. Germany, Aruba, Iceland and Bermuda pave the way for remote workers to work (and spend money in) their countries. Some countries, like New Zealand, also offer a working holiday visa for U.S. citizens.
Considerations for Working Abroad
Once your visa and passport are in order, you'll find plenty of options for landing a short-term home in your new country.
Around the world, after more than a year filled with vacancies, luxury resorts and hotels for every budget are offering "workcation" packages for remote workers. Vacation rental platforms like Airbnb, Turnkey and Vrbo make it easy to book online from your home country and move right into a new home in your destination country.
Other considerations for jet-setting your home office to a different country include adaptability factors like adjusting to cost of living changes, cultural differences and language barriers. If you work for an international company, you may already have the language skills, soft skills and communication skills needed in the new country.
If your home language is English and you are teaching English abroad, there is less of a need for you to have local language skills since most destination countries expect English learning to be an immersive experience for students.
You'll also want to make sure your health insurance covers you abroad or purchase an ex-pat health insurance policy. It's also a good idea to research local healthcare providers in advance and ensure your medical plan can get you back home should you encounter an emergency.
And, of course, with the global challenges posed by COVID over the past two years, it's essential to know the conditions of every destination country in your travel plan. Check CDC travel guidelines, U.S. Department of State travel advisories and vaccination requirements before making relocation plans.
Benefits of Working Abroad
Whether you are taking your remote work on the road for a while or you are working a new international job as an ex-pat, the benefits of working abroad include personal development, a deepened knowledge of the world and professional advancement.
According to Indeed and LinkedIn, among the top competencies recruitment agencies and employers seek are communication skills, learning and adaptability, creativity, self-management, organization, strategic thinking and open-mindedness. Every one of these skills gets a workout when you travel, live and work in a foreign country.
If you are a job-seeker looking for that dream job that allows you to engage in international work or take your U.S. work abroad, you can find checklists and recruitment tips from other ex-pats on sites like Expatica.
The world is big, and your cubicle was small. If you have the opportunity to experience short-term or ex-pat remote work, it might boost your career while satisfying your wanderlust.