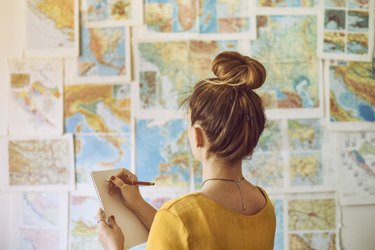 Travel clubs offer carefully-curated travel experiences and personalized service, removing the hassle of planning so travelers can focus on the journey. Clubs provide varying member perks, travel tips, discounts, concierge services, customized itineraries and special access to events and experiences.
Expert-led travel clubs take travel planning one step further. They offer a specialized form of group travel designed by subject experts with in-depth knowledge of the people, environment, history and culture of destinations on the journey. An expert-led club adds dimensions of education, conservation and protection of wonders, treasures and cultures worldwide.
Travel Led by Studied Experts
All travel clubs have travel experts to handle travel arrangements, itineraries, concierge services and other trip-related details. Whether international travel, faraway adventure or domestic getaway, a travel club will have each detail planned to ensure a quality member experience.
Expert-led clubs have these services and personnel and add a learned team of field experts and academics: archaeologists, anthropologists, geographers, ecologists, art curators and professors, for instance.
Depending on the destination, an astrophysicist, medievalist or Egyptologist may be behind your trip's itinerary — and may even be one of your guides. These experts often work for renowned cultural and learning institutions that double as travel companies and travel clubs to offer knowledge-rich, immersive experiences.
National Geographic Expeditions
National Geographic (Nat Geo) has been a trusted name in world education and exploration since 1888, and this is what backs their travel club experiences.
Nat Geo experts are your travel planners and, depending on the trip, your travel companions. For instance, aboard the Journey to Antarctica, is an Expedition Team with a professional photographer, regional expert and crew of scientists.
Each trip overview on the website shares dates and pricing, maps and photos, experts' biographies, a detailed itinerary and a list of what is and is not included in your package.
Most expeditions are nearly all-inclusive. The traveler must purchase airfare and travel insurance separately. Some adventure travel trips to remote destinations require at least $200,000 medical emergency evacuation and repatriation coverage.
The Smithsonian is another trusted name in education, world cultures and natural history. The mission of Smithsonian Journeys is to make knowledge accessible, expand cultural awareness and spread understanding of the world.
Every detail of the trip package or group tour is planned by a team of travel directors, specialized staff and Smithsonian-vetted subject experts. Join a three-week immersion program in Florence, explore the geological wonders of Iceland or embark on a safari in Tanzania. The Smithsonian's 176-year reputation backs each trip.
Trips range from land excursions to ocean journeys, train travel to private jet flights, and pre-planned itineraries to tailor-made experiences.
Use the website's Trip Finder to identify trips that fit your wanderlust or browse by trip type or destination. Each trip overview shares dates and pricing, itinerary, biographies of the trip experts and tour details.
New York's Metropolitan Museum of Art (The Met) travel club offers opportunities to see the world's art and history with the guidance and expertise of The Met's esteemed curators and educators.
Destinations for 2022 include Budapest, Egypt, Morocco, Qatar, Madrid, Rome, Israel, Vienna and Berlin, among others. With each trip, your travel companion or tour operator is an art history expert, and your trip includes an enrichment program of lectures and talks.
The Travel with the Met website offers full details for each trip, including a full-color brochure for each destination, like this one for Morocco.
The rates for most Met trips do not include international airfare, travel insurance or medical/evacuation insurance.
Expert-Led Travel Is on the Rise
In addition to these clubs, you'll find expert-led travel services from trusted membership organizations like AARP, museums, such as Chicago's Field Museum and specialized private travel clubs, like Peter Sommer Travels.
Whether you are a solo traveler or journeying with friends or family, expert-led clubs offer safety, trustworthiness and complete travel services, in addition to an enriching experience guided by accomplished experts.