Americans looking to retire outside of their homeland may look to Canada simply for its proximity. Other reasons American retirees may find their neighbors to the north attractive may include the nation's universal health care and high standards of living. Whether you want to retire to one of the Maritime provinces; the country's largest city, Toronto; Vancouver on the west coast; or anywhere in between, there are a few steps to consider before packing your bags for north of the 49th parallel.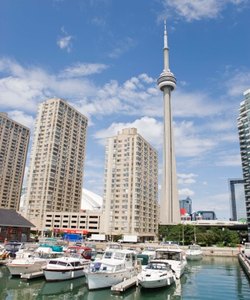 Step
Have a job lined up in Canada. It is hard to retire in the U.S. and then move to Canada. To obtain permanent resident status in Canada – and qualify for health care coverage – the government looks at your ability to work because it considers your potential impact on the economy.
Step
Have a family member sponsor you if you are past the retirement age. Your sponsor must be able to support you and you cannot seek any financial assistance from the Canadian government. There are different applications for sponsoring a spouse, partner or children and sponsoring other relatives.
Step
Save your money. The Canadian government will consider how much money you have as you immigrate to the country. Your ability to support yourself is an important factor in determining your permanent resident status. If you have a net worth of $1.6 million and invest $800,000 in the economy, you can apply for immigration as an investor. Your investment is guaranteed by the government and will pay it back to you after a little more than five years after your investment.
Step
Prepare the necessary documents to facilitate you move. According to Citizenship and Immigration Canada, you will need to present the following: your visa and Confirmation of Permanent Residence; your passport; two copies of a list that details all personal and household items you are bringing across the border; and two copies of a list of items and their money value that will arrive later. There are other nonessential items you may need (such as birth or marriage certificates) , so please refer to the CIC website for details.