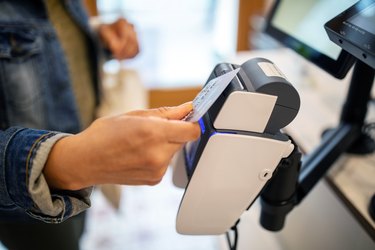 You can activate SunTrust debit cards in one of five different ways, making it convenient to get started using your new card. While it's possible to activate your card by making a transaction, it's probably a better idea to activate it another way, before you try to use it to make sure it's done correctly and you won't be embarrassed by having your card declined.
Unlike a credit card, a debit card removes cash from your checking or savings account. You can only make purchases totaling the amount of money you have available. For this reason, it's a good idea to log in to your SunTrust account regularly to check your balance so that you don't overdraw your account or have a transaction declined.
The quickest way to activate your new card will probably be to call the number on the activation sticker that's placed on the card before it's mailed to you. Call the number and follow the prompts to activate your card, or request to speak to a customer service representative to have her activate your card.
You will need to provide information such as your card number, expiration date, the security code on the back of the card, your birth date, the last four digits of your Social Security or Taxpayer Identification number and zip code.
Once you correctly enter the information into the automated phone system, you will get a confirmation that your card has been activated. You can begin using it immediately. If you don't have a sticker on your card or have your card handy, you can call 844-STCARDS (782-2737).
Activating Your Card Online
You can activate your card online by visiting the SunTrust debit card activation page. You'll need to enter your card number, expiration date, security code, zip code and Social Security number or Taxpayer Identification number. Check the "I'm not a robot" box and click on "Activate card."
It's a good idea to register for an online SunTrust account. Not only can you activate your card, but you'll also be able to check your balance, review transactions and perform other tasks related to your account.
To open your online account, navigate to SunTrust's website and enter the information requested, which will be similar to the information listed above. Enter the word "activate" into the search bar once you're in your new account and look for a link to this function.
If you want to bank from your phone, download SunTrust's mobile banking app. Follow the steps to set up your account and activate your card. The process to set up a mobile app account for SunTrust debit cards is similar to setting up an online account.
You can also activate your card by making a transaction that requires you to use your personal identification number, or PIN. You can make a deposit or withdrawal at an ATM, check your balance or perform another function.
You can also make a purchase at a retail location, such as a grocery store or gas station, that requires your card PIN. The first time you use your card to make a transaction that requires a PIN, your card will be activated.