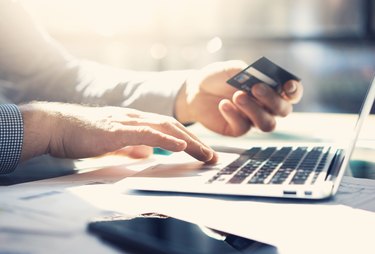 Woodforest National Bank requires debit cards to be activated at an ATM, unlike many banks that allow activation over the phone, by using an automated system or simply by making a debit purchase. Banks require activation of debit cards to ensure no one uses your card before it gets to you. You'll need to go through this process when opening a new bank account or if your previous card has expired or was lost, stolen or used fraudulently.
Your PIN
Woodforest does not send your PIN in the mail like many financial institutions. Instead, you must remember the PIN you created when you signed up for the card. Replacement cards keep the same PIN unless fraud or theft occurred. In these cases, you must visit a local Woodforest branch and request a new PIN.
Activation
You do not have to go to a Woodforest ATM to activate your card, but you will incur any fees that apply to third-party ATM transactions. There are three steps to the activation process:
Go to an ATM and insert or swipe your card

Enter your PIN

Follow the prompts to choose a transaction. You can activate your card by performing any of the normal ATM functions, such as making a withdrawal or balance inquiry. If you're at a Woodforest ATM, you also can activate your debit card by making a deposit.

Your card is activated as soon as the transaction completes.