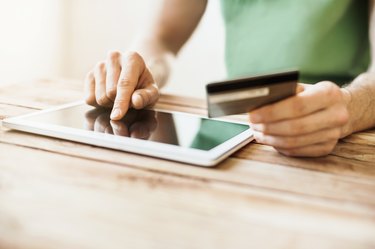 Your debit card's PIN gives you the ability to conduct transactions through an ATM as well as get cashback when you use the card at stores. If you forgot the debit card PIN, you may be able to find it on a letter that your bank sent around the time you got the card. Otherwise, you'll need to contact your bank to find out which options they provide for recovering or changing the number. The good news is that you still have ways to access your account in the meantime.
Getting New PIN Number Online
Depending on your bank, you may have the option to request a new debit card PIN online. However, keep in mind that unless you're simply changing an old PIN to a new one, you probably won't instantly get a new PIN to use. Instead, you'll probably have to wait for the bank to mail you a letter showing it.
To find out if your bank has this option, log in to the mobile banking website or app and look for a section for card services, card options or card management. If your bank allows it, you should see a link to request or change your PIN. You may need to confirm your card information and identity to proceed. The letter showing your PIN usually comes in less than 10 business days.
Contacting the Bank by Phone

When you can't find a "forgot debit card PIN" option through your bank's website, try calling the banking number shown on the back of your card. Keep in mind that business hours may apply if your bank requires speaking to a representative and doesn't have an automated phone option to request a forgotten PIN. Expect to give some personal information to verify your identity.
Like with requesting a forgotten PIN online, this method requires waiting several business days to get a letter. Usually, the bank will send a reminder showing your current PIN, but they may also generate a random new one for security reasons.
If you need a new PIN immediately, your best option is to visit a local branch in person. Banks often take walk-in customers, but some like Bank of America have you set up an appointment to come in and get a new PIN. Be prepared to bring your bank card along with a photo ID to verify yourself.
How you get your PIN can vary by branch. For example, if you bank through Wells Fargo and forgot the PIN, you'll instantly get a generated one to use and can change it later to a number you prefer. However, other banks may take your request and make you wait for a PIN letter in the mail like with the other options. So, consider calling the branch before making the trip to confirm their capabilities.
Forgot Debit Card PIN Alternatives
Even if you need to wait for a PIN to arrive in the mail, you can often still use your bank card for purchases at stores and on websites as long as the merchant lets you run it through as "credit." This may require a signature instead of your PIN for in-person purchases, and your bank will need to authorize the transaction. The money will come out of your bank account as usual, but you won't get a cashback option at checkout.
If you need to withdraw some cash and forgot the debit card PIN, you'll need to visit the bank and have a teller handle the transaction since you won't get to use the ATM. You'll just need to fill out a withdrawal slip, have your bank account number and show identification.
Best Practices for Your PIN
When you get a new PIN sent to you, consider changing it so that it's something more memorable and less likely to be forgotten. At the same time, avoid using one representing personal information like your Social Security number or birth date. You can usually do this through your bank's mobile app or website, but you should also have the option at an ATM.
If you worry about losing your PIN again, Republic Bank warns you should avoid the inclination to make a note of it to put on your desk or phone. If you do want to write it down, make sure you put it somewhere private like a locked safe.