Most times, you won't need a PIN number to use a Visa credit card, but a PIN can be helpful for traveling abroad or getting cash advances. Contact the company that issued your card if you need to set your PIN or don't know your existing one.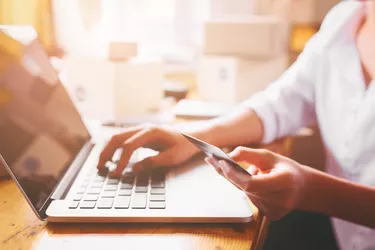 When You Need a PIN
While U.S. bank debit and ATM cards often require PIN numbers to access funds from your checking account, when withdrawing from an ATM or making a purchase at a store, credit cards usually don't require PINs for ordinary purchases. Typically, you can buy something using your credit card online, at a store or at a device like a gas pump or vending machine without entering a PIN, though you may be asked for other information like your ZIP code, credit card expiration date or security code to verify your identity.
To withdraw money from a credit card at an ATM, which is typically called a cash advance, you will often be asked for a PIN, just as you would when use a debit card to withdraw money from a checking account. Your credit card company will usually charge you a fee to get a cash advance, as well as charging you interest according to the terms of your account, so it's often worth estimating how much a cash advance will cost you before getting one if you have another way to access cash.
You may also need a PIN to use your credit card for some transactions outside the United States. While chip-based credit cards in the United States typically don't require PINs for transactions, many in other countries, including in Europe, do. While some merchants overseas will simply ask for your signature as they might in the U.S., it's sometimes impossible to sign a receipt, such as when you're using an automated machine like at a gas station or train station. In that case, you'll need to use a PIN to complete your transaction, or find an alternative way to pay, such as cash, a mobile payment or payment with another card that doesn't require a PIN.
Getting Your PIN
Some banks and credit card companies will send you an automatically generated PIN when you sign up for an account. Others may require you to create a PIN of your own through online banking or over the telephone.
If you realize you don't have a PIN on your account or don't know what your PIN is, contact your credit card company for help. Depending on their policies, they may be able to give you a PIN reminder, allow you to choose a new PIN, or send you a new PIN in the mail. Since you may not be able to get a new PIN instantaneously, it can be worth requesting one before you'll actually need it.