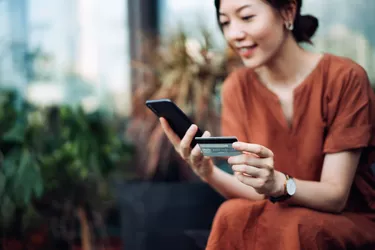 When you get a new credit, charge, debit or prepaid gift card, you'll need to activate it. You'll also want to register it for security reasons and to take advantage of all of its benefits. No matter what type of card you get, the steps for activating it are almost always the same.
Credit cards allow you to make charges without having money in a checking or savings account – the card issuer lends you credit. You don't have to pay the full amount of credit you've used each month. A charge card is similar to a credit card, but you must pay your full balance each month.
A debit card is a card tied to a bank account, letting you use your own funds to make purchases. Each time you make a charge, it's deducted from your account amount until you have no more funds.
A prepaid card is similar to a debit card, but you don't need to have a bank account. You "load" the card with funds using a credit or debit card, and each time you make a purchase or payment, you reduce the amount of funds you have left to spend. You don't get the same benefits as with a debit card, however, such as those associated with a checking or savings account.
Prepaid cards and gift cards are almost the same. For example, you load both cards, but with a gift card, you might only be able to use it at a particular store, such as at a fast-food restaurant or specific retailer tied to the branded card.
Activating vs. Registering
When you receive most money cards, you'll need to activate them. This allows the owner to start making purchases and payments. Card issuers do this to make sure the original purchaser is the one who has possession of it. This is especially true of credit and debit cards.
You can also register prepaid and gift cards so that you can freeze them in the event they are lost or stolen, request a new card or reload them. With many prepaid cards, you can set up online accounts that let you check balances, see recent transactions, reload them or freeze them. In addition to setting up online access, you can often download a credit or debit card issuer's mobile app to set up access to your account.
Activating Your Prepaid Mastercard Online
Mastercard is not a credit, debit or gift card issuer – it's a payment processing service. Different banks, credit unions and other financial institutions issue Mastercards, and those issuers determine how they make you activate your card. Therefore, you can't activate your card at the Mastercard website, as explained on the site's FAQ page.
To activate your prepaid Mastercard online, look at the back of your card or check the letter or other paperwork you received with the card for the issuer's website address. Visit the website and look for the link to activate your card. You will usually need the following information:
Your card number
The PIN associated with the card
The security number on the card (such as a CVV or CVN).
Follow the steps to activate your card and wait for confirmation. For example, GiftCardGranny allows you the option to set up a PIN for certain Visa and Mastercard gift cards so you can use them as debit cards, rather than as credit cards. You should get a message that your card has been successfully activated.
Other Ways to Activate Your Card
The quickest way to activate your card is often to call the number on the back of the card or in the letter you received if you got the card by mail. You don't even need to speak with a customer service representative. The process for how to activate a prepaid card by phone is simple. You'll be prompted to enter the card's 16-digit account number and the security code (often a CVV code). Some companies might ask you for the card PIN.
You can activate some cards by making an in-store purchase. The merchant runs the card and if it's the first time you're using it, you'll be asked to manually enter the PIN or security number. Once this happens, you might be able to use the card in the future without the PIN or security code, based on the type of card you have, such as a contactless or chip card.
You'll still want to go online and register the card if you can't do that during your phone call. Go to the card issuer's website and set up your account access.