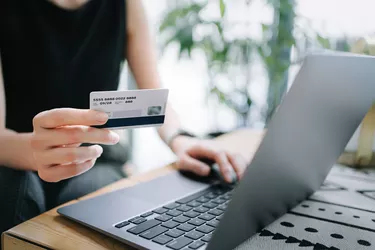 As an alternative to cash and credit or debit cards, physical gift cards and online gift card codes provide a convenient payment method available in various denominations. If you've received one or purchased one yourself, you might wonder, "When does my gift card expire?" State and federal laws affect when and if your card will expire, and retailers can offer additional leniency. You'll usually find the information on the gift card itself, but you can also check the issuer's website or call them.
Laws on Gift Card Expiration
According to the Federal Deposit Insurance Corporation, you can expect most types of gift cards to be protected under federal law to not expire for ​five years​ minimum. At the same time, the federal law prohibits issuers from reducing your gift card balance through service fees for inactivity as long as you don't let the card sit dormant for a year. In addition, the issuer needs to make it clear such fees apply.
Your state's laws have an effect on the expiry date as well. For example, the Connecticut Attorney General says the state doesn't allow most gift cards to expire, so you can often redeem a gift card at any time. However, bank gift cards fall back to the federal five-year rule. On the other hand, the Ohio Attorney General mostly sticks with the five-year federal expiration date rule, but specific terms can apply to certain gift certificates and employer-provided cards.
Gift Cards Through Specific Retailers
If you have a store-branded gift card, you can expect the card to remain valid at least through the period required under federal or state law in your location. However, many major retailers now don't set an expiration date for these cards at all. For example, the Amazon website says your Amazon gift card balance never expires, while Walmart says the same for its electronic and physical gift cards. The same holds true for gift cards for Netflix subscriptions.
If you have a physical gift card, you can try reading the back to see any terms on expiration as well as associated inactivity fees. You can also look on the retailer's website's gift cards section, which may be in the form of an FAQ, to see if any expiry date applies to your electronic or physical gift card. You can also always contact the number on the back of the card or the issuer's website, provide your card information and learn if the card expires.
If you have a bank gift card affiliated with a credit card payment network such as Visa, American Express or Mastercard, you'll notice the physical card will have a "good thru" date on the front below the gift card number. However, you might have instead received an e-gift card that you use with PayPal, Amazon Pay or a similar service. In that case, the expiration date might appear on your online account portal, or it could be in the email you received when you obtained the card.
While this date refers to when you can no longer use the card for payments, it doesn't necessarily mean the funds are gone. For example, Vanilla Gift advertises a ​nine-year​ expiry date for its Visa e-gift cards, but it says you can simply get a new card and continue using your funds after that. American Express also lets you call to get a new gift card and maintain your funds indefinitely.
Other Considerations for Gift Cards
While your gift card remains valid, you'll want to keep some risks in mind to avoid losing your gift card balance. First, Netflix and other companies often won't replace the gift card if you lose it or allow you to reload the card. Second, you can start to see an inactivity fee start to cut into the funds in your account if you let the card sit unused over a certain period of time.
In addition, you usually can't get cash from the issuer for your unused gift card, so you'll want to use the funds before they do expire. You'll also want to avoid scams where scammers impersonate legitimate companies and ask you to give your gift card information away for payment.