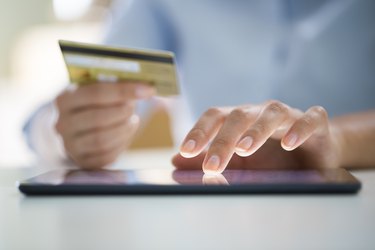 The process of using an American Express gift card to make online purchases is similar to using an American Express credit card. While the process is similar, you should be aware that gift cards are not categorized as either credit or debit cards and don't offer the same level of protection in certain situations.
Getting Started
American Express gift cards can be purchased with either a fixed amount or an amount chosen by the purchaser. The initial amount on fixed amount cards is displayed on the front of the card, while variable load cards have an area on the wrapping where the purchaser can fill in the amount. The available balance can also be checked at any time by calling 1-877-297-4438 or visiting the American Express gift card website. The gift cards do not require activation prior to the first use. When these cards are used to make online purchases, the merchant will require three pieces of information from the card.
The Card Number
The card number is displayed on the front of the card. It serves as the account number from which the money will be captured by the merchant after a purchase is made. This is also the number that needs to be submitted when checking the available balance on the card. American Express recommends that card holders keep a record of their account numbers and the phone number for gift card services in case the card is lost or stolen.
The Expiration Date
American Express gift cards are printed with an expiration date, but the balance on the card doesn't expire. The reason for the expiration date is that merchants require one to process orders. If a gift card expires with a balance remaining, the card holder can call gift card services, provide the information on the card and receive a free replacement.
CSC and CID Numbers
Gift cards by American Express have a 4-digit code on the front called a Card Identification Number and a 3-digit number on the back referred to as a Card Security Code. The CID code serves the same function as the CVV code on VISA and MasterCards. The CID and CSC numbers are required, along with the card number, to inquire about the available balance and to replace a lost, stolen or expired card.
Making Online Purchases
Making an online purchase with an American Express gift card follows the same process as using a credit card. Generally speaking, the information required to make a purchase will be the card holder's name and address, followed by the card number, expiration date and the 4-digit CID number.
Warning
Charges on an American Express gift card cannot be stopped or charged back to the merchant. If there is a dispute on a purchase, the card holder must contact the merchant directly.