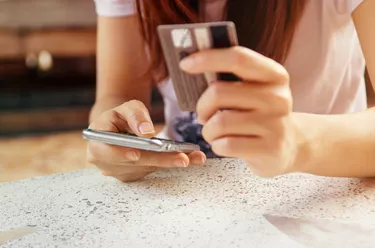 Signature panel codes, more often referred to as security codes, are the three- and four-digit numbers you see printed on credit cards that help provide an extra layer of security when making transactions over the phone or digitally.
Different credit card companies have different types of codes, but they all work basically the same.
While you'll want to memorize the personal identification number (PIN) associated with your cards, your security codes will be available to you as long as you have your card handy. You may need to refer to your card's security code when you're making an online transaction or buying something with your credit card over the phone.
On Visa, Mastercard and Discover cards, the three-digit security code is located on the back of the card, at the end of the signature panel, or blank space where you sign your name on the card. On American Express cards, the security code is a four-digit number printed in ink on the front of the card, next to the embossed (raised) credit card number.
When you're making a transaction in person, you can swipe your card, insert it into a chip reader or tap it against a contact-enabled card terminal, giving the merchant all of your card's information so it can send it to the credit card companies, who then verify the card is good – all in a flash. You might be asked to give your PIN during some transactions, such as when you use your card to withdraw money from an ATM.
When you are using a phone to make a credit card transaction or you're making a purchase at a website, you will often be asked for the security code for the card. This is, in part, because the merchant can't swipe or chip-read your card. The security code gives the merchant more information about you.
In addition, security codes that are printed on the backs of cards add a layer of protection. If someone photographs the front of your card or sees the front and takes down your card number and expiration date, they'll have a hard time using the card if they don't have your PIN or security number.
Overall, security codes offer an extra layer of protection against fraud and identity theft, which is good for both credit card companies and you. These little codes offer a big benefit to everyone involved in a transaction.
Different banks and credit card companies use different types of security codes, but all serve roughly the same function. You might hear them referred to as signature panel codes, security codes or CVV numbers when you are making a transaction that requires you to input this number. The different types of codes used by credit card companies include:
CVV or CVV2: Card verification value
CVVC: Card verification value code
CVC or CVC2: Card verification code
SPC: Signature panel code
CVN: Card verification number
CVD: Card verification data
CSC: Card security code