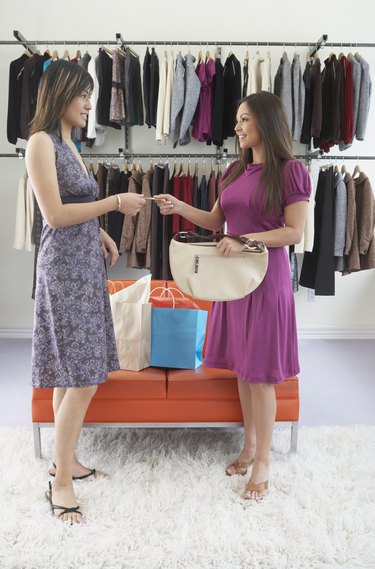 The RushCard, created by hip hop mogul Russell Simmons, offers an alternative to traditional banking by combining a prepaid card with direct deposit, check-writing capabilities and money management tools. Before you can use your new RushCard to make purchases, you must activate it either over the phone or online. The exact process varies depending on the type of RushCard you own. The RushCard Live is similar to a RushCard, but comes from Green Dot Bank, not MetaBank. The RushCard Live also has a higher daily cash load limit of $2,500, compared to $1,000 with the regular RushCard.
General RushCards
Step 1
Call the activation line at 1-800-207-4109. The voice activated system walks you through the activation process. You'll need to provide your Social Security number and last four digits of your card.
Step 2
Set up your secure Personal Identification Number. The voice activated system will also help you create a PIN number for your card that you'll need to make purchases and access your funds.
Step 3
Sign up for an online RushCard account. The online account gives you access to instant account information such as your current balance, statements and recent card activity. You also can use the RushCard budgeting tools, send checks to anyone online and pay your bills with the card. You'll need your RushCard number and the Card Verification Value number to register. You'll also create a login ID and password, as well as answer security questions. Once you activate the card and set up an online account, RushCard sends you electronic statements at no additional cost. Paper statements cost $1 as of publication.
RushCard Live
Step 1
Visit www.rushcardlive.com to activate your RushCard Live card online. For a card you bought online and received in the mail, you'll need to enter your card number, expiration date, security code and last four digits of your Social Security number.
Step 2
If you bought your card in a store, you can also activate it online. After visiting the website, enter the card number, security code, contact information, Social Security number and date of birth. The federal government requires the additional information on cards bought in a store to prevent terrorist funding.
Step 3
Create a four-digit PIN number. You can choose your own PIN number or have the website system pick one for you. Enter the security code shown on the screen, confirm your activation and your card is ready for you to use.
Things You'll Need
Social Security number

RushCard