If you want to make digital purchases instead of carrying around cash that could easily be stolen, but you don't want to go into debt with a credit card, the Visa Green Dot card is an excellent solution. Once this card is pre-loaded with funds it can be used in the same way you use a traditional bank debit card. Since it carries the Visa logo, it can be used to make in-store and online purchases anywhere Visa is accepted. The best part is you never have to worry about overdrafts or maintaining a minimum balance.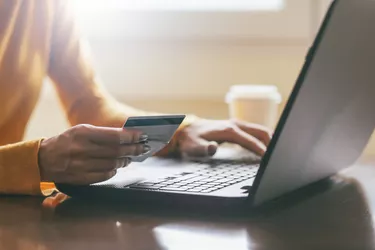 How the Green Dot Card Works
The Visa Green Dot card is free when purchased online and costs $1.95 or less when bought in a store. It doesn't require any credit checks and comes with the benefit of earning 5 percent cash back. Cardholders can receive as much as a $100 each year simply for doing the shopping they'd normally do anyway. There is a monthly fee of $7.95 to have the Green Dot, but this fee is waived for each month $1,000 or more is loaded onto the card.
How to Activate Your Card
Your Visa Green Dot card will arrive inactive. This is to prevent fraud if it gets lost or stolen on its way to you. Fortunately, it only take a few seconds of your time once you have the card to fully activate it. Simply head to the Green Dot homepage and click Register Card on the top right-hand corner of the screen. You'll be taken to a secure page where you can enter the card's 16-digit account number and 3-digit CVV security code. Input the month and year of the card's expiration date before clicking Continue. Next, follow the prompts to enter your name, address and birthdate. Although your card isn't usable until you add funds, it is now activated.
Loading Your Green Dot Card
Before heading to the store or placing an order online, you'll need to load your Visa Green Dot card with some money. There are several ways to do this: Visit one of Green Dot's financial centers or retail stores and use cash; sign up for direct deposit at no cost and have your paychecks transferred to the card; or you can even choose to have your tax refund deposited to the card. There's also the option of using your mobile device to deposit a check or make a transfer from one of your bank accounts. Once the funds have successfully been loaded, you can begin using your Visa Green Dot card.