Carrying cash to make everyday purchases isn't always ideal, and writing out a check takes time, which isn't convenient when there's a long line behind you at the register. Instead, a better option is to use a prepaid credit card. This type of card is widely accepted, and the prepaid feature mimics the function of a debit card so you don't have to worry about going into debt as you could with a traditional credit card. Walgreens offers both Visa and Mastercard prepaid credit cards.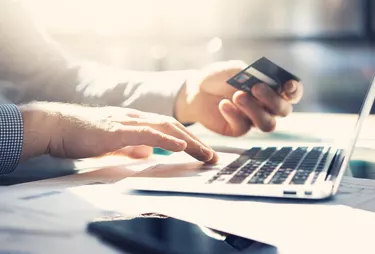 Choose a Card
Visit Walgreens and decide whether you'd like a Visa or Mastercard prepaid card. The cost for each card is $7.95 per month, but the fee will be waived for any month you load $1,000 or more to the card. There's no credit check to get the card, no overdraft fees and no purchase transaction fees. You'll also be able to personalize the card and select a design. A temporary card will then be issued.
Register the Card
Once you purchase the temporary prepaid credit card from one of Walgreens' 8,000 locations, you'll need to register the card using a smartphone, tablet or home computer. The card comes with step-by-step directions, including the website you'll have to visit to register the card. Be prepared to enter your name, mailing address, date of birth and Social Security number. The company will then verify your information and send the permanent card within seven to 10 business days.
Add Funds to Your Card
Once you receive the permanent prepaid credit card, there are several ways to load it. You can take cash directly to the cashier at any Walgreens or connect the card to your savings or checking account and set up direct deposit. Each time you add funds to your card, you're subject to a reload fee of up to $4.95.
Get Shopping
Your Walgreens prepaid credit card is now ready to use and you can begin shopping immediately. Simply take the items you want to purchase to the register of any store that accepts Visa and Mastercard cards. After the cashier rings up the items, swipe the prepaid credit card through the credit card terminal to finalize the payment. If you prefer, you can also use the prepaid card to make online purchases. At web checkout you'll need to enter the card number, expiration date and three-digit security code.
Other Uses for the Card
In addition to shopping with the prepaid Visa or Mastercard, you can use the card to access cash at an ATM. Just keep in mind that you'll be charged fees of about $2.50 for withdrawals and 50 cents whenever you make a balance inquiry, plus whatever fee the ATM owner charges for use of the machine. There's also the option to use the card to pay bills online, which could be beneficial if mailing a check would cause the payment to arrive late, thus causing you to incur a late fee.