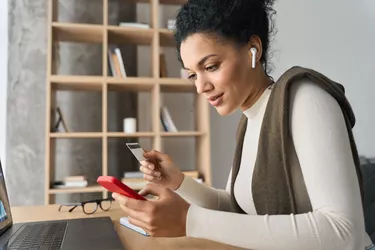 Green Dot prepaid MasterCard cards are sold by Green Dot Cards and issued by Green Dot Bank. You can purchase them in several popular retail stores including Walmart, Walgreens and CVS. Prepaid cards are an excellent choice for individuals who have less than stellar credit, as well as individuals who want to ensure they don't spend more money than is in the budget. Once you purchase your Green Dot card, you'll need to activate it before you can load it with funds and begin shopping.
Card Eligibility Requirements
In order to purchase a Green Dot prepaid MasterCard, you'll need to be at least 18 years of age. The company lists online access and identity verification via your Social Security number as requirements to activate and use the card. If you plan on taking advantage of all of the card's special features, you'll also need to be willing to verify your cell phone number and your email address.
Green Dot Card Activation
There are two ways to activate your Green Dot prepaid MasterCard. The first is to download the Green Dot app to your mobile device. Once the app has fully downloaded, tap the "Open" button. Click "Don't Allow" or "Allow" when asked if you would like to receive important notifications. On the homepage, click the link that reads "Have a New Card in Hand?" Type in your card's 16-digit account number, expiration date and CVV in the designated boxes and press the green "Next" button.
Enter your personal information on the next screen. This includes your name, address, phone number, email address, Social Security number, date of birth and a personalized PIN of your choosing. Retype your PIN at the bottom of the page to confirm it and then check the box to agree to the card's terms and conditions. Click the green "Continue Now" button to head to the next screen, which asks you to verify your address. Once you do, Green Dot will send you a text message with a code that you must enter in the box provided to confirm your phone number. Finally, you'll be asked to create a unique username and password. Tap the "Continue" button to receive confirmation that your card has been successfully activated.
The second way to activate your Green Dot prepaid MasterCard is to head to Green Dot's homepage. From there you can either click the green "Register/Activate" button or choose "Register/Activate" from the drop-down menu on the right-hand side of the screen. On the activation page, enter your account number, expiration date and CVV before clicking "Next." Enter your name, mailing address, Social Security number and PIN in the provided boxes. Confirm the pin and enter the Captcha to prove that you're not a bot. Agree to the terms and conditions and your card is ready for use.
Fees Associated With the Card
At the time of publication, a Green Dot prepaid MasterCard costs $1.95 to purchase. Once you activate it, there are a host of additional fees you should be aware of. These include a $7.95 monthly service fee, a $3.00 ATM withdrawal fee and a $5.95 cash reload fee. You can avoid the cash reload fee by transferring funds from your savings or checking account to the card. The monthly service fee is also waived if you've loaded $1,000 or more during the previous cycle.
Note: If you use the Green Dot prepaid MasterCard outside of the United States, you'll be charged 3 percent of the purchase price in dollars. So, if you use the card to book a $100 hotel room, Green Dot will charge you $3.