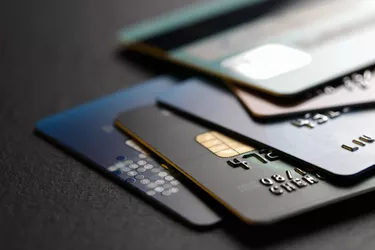 Green Dot is a financial technology and registered bank holding company that caters to individuals who can't or don't want to purchase items on credit. This group includes those who have fair to poor credit scores, as well as those who prefer to stick to a budget. As of 2021, Green Dot has served over 33 million customers and remains the leading retailer of debit cards.
Tip
A Green Dot card works just like every other prepaid card. Individuals load the card with funds and then use the card to make purchases online and at a variety of retail stores.
Setting Up Green Dot Cards
There are several types of Green Dot cards to choose from, all of which are only sold in stores. Shoppers can opt for one of the four Green Dot debit cards or go with the Green Dot Prepaid Visa Card. There is a purchase fee to obtain one of these cards and this fee varies by store. Once you register the card, the company will mail you a personalized card. You'll need to activate that card before you can begin using it. This is done by either calling the number on the back of the card or by following the online instructions provided in the Green Dot information mailer that came with your new card.
Each of the Green Dot debit cards works just like the debit card you have associated with your checking or savings account. You need to pre-fund the card via a bank transfer, direct deposit of a paycheck or a cash deposit. Once the funds are loaded, you can use that balance to make purchases with the card. There are four debit cards to choose from:
Green Dot Prepaid Visa Card
The Green Dot Prepaid Visa Card is another prepaid card available through the company. It comes with a $7.95 monthly fee; however, this fee will be waived if the account balance remained above $1,000 the previous month. Users can transfer funds from a bank account without any fees and there are no additional purchase fees. The card can be used anywhere that accepts Visa and cardholders can use the mobile app on their smartphone to keep an eye on their account.