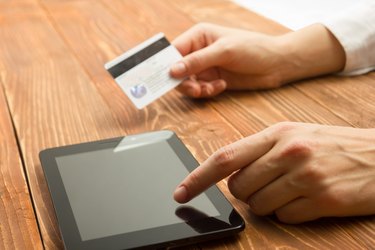 The H&R Block Emerald prepaid MasterCard is an option for consumers that lets them gain access to their income tax refunds quickly and easily, without using a checking or savings account. With the Emerald card, consumers are not limited to only using the tax refund on the card, because they can also load more money onto the card whenever they want, using MoneyGram, Green Dot or Western Union.
Load using Green Dot
Step 1
Go to any retailer that sells Green Dot cards. Locations can be found by going to the Green Dot website and entering the desired ZIP code: A list of retailers will appear.
Step 2
Give the Green Dot card to the cashier and state how much is to be loaded. A $4.95 service fee is also required to purchase a Green Dot card. Give the money to the cashier.
Step 3
Call the number on the back of the card or go to the website to load the money onto the Emerald card.
Step 4
Enter the Green Dot number, either when prompted over the phone or on the website.
Step 5
Enter the number of the Emerald card as well as the expiration date and the security number located on the back of the card. Click "Submit." A conformation will appear with the card number as well as the amount that was deposited onto the card.
Load Using Western Union
Step 1
Go to the nearest Western Union retailer, which can be found on the Western Union website by entering the appropriate ZIP code for a list of close locations.
Step 2
Enter the required information on the gray prepaid services form located on the Western Union counter.
Step 3
Give the filled out, gray pre-paid services form as well as the $3.95 service fee plus the amount to be deposited to the cashier. The money will be available on the account within a few minutes.
Load Usng Money Gram
Step 1
Go to the nearest Money Gram retailer. This can be found through the retailer location function on the website.
Step 2
Give the cashier reference number "4941."
Step 3
Give the cashier the company name "Emerald Card," the city "Kansas City" and the state "MO."
Step 4
Provide the cashier the Emerald Card number and give her the cash to be loaded as well as $3.95 service fee. The cashier will provide a reference number, which you can call to verify that the funds have been successfully transferred.