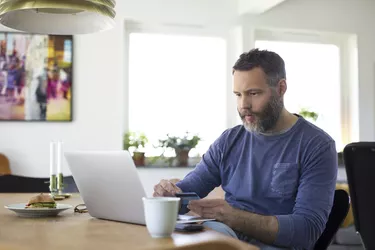 An H&R Block Emerald Mastercard debit card not only lets you get your tax refund loaded to a payment card, but you can also use the card for the rest of the year for online and in-person purchases, just like a debit or credit card. You can reload the card using other sources of funds, but you'll want to watch out for more than 10 H&R Block Emerald card fees, advises Finder.com. Reviewing how to add money to H&R Block Emerald card accounts will help you avoid any problems.
An H&R Block Emerald Mastercard is a pre-paid debit card. This is different than a regular debit card that takes money from your savings or checking account each time you make a purchase or withdrawal. With a pre-paid card, you'll need to load money onto your card as it begins to run out of loaded funds. You can do this using your tax refund, by transferring money from one of your bank accounts or by setting up an Emerald Advance loan.
Once your loaded dollars run out, you can't use the card (or your purchase attempts will be declined). If you don't want to have your IRS tax refund deposited into your bank account (or if you don't have a bank account), you can have your refund paid to your Emerald card. If you take out a refund loan with H&R Block, you can get your refund even quicker.
H&R Block also offers an Emerald Advance option, which is a loan of up to ​$1,000​ that loads to your card. However, there are limited windows each year for getting these loans (they repeat each year, however, from ​November 11​ to ​January 8​). Once you qualify, you can use your money year-round.
To get started using H&R Block's Emerald Mastercard, you'll need to sign up for an H&R Block account. Visit H&R Block's Emerald Card Services page and create an account. You'll need to provide a variety of personal information to register an account. You can also download H&R Block's MyBlock app at the Apple Store or Google Play to manage your account.
Once your Emerald account is set up, you can add money to your account. You can do this by transferring money from a savings or checking account, having your tax refund applied to your card, having your paycheck direct-deposited to your Emerald account, transferring from an H&R Block Emerald Savings account or depositing a check someone wrote to you. If you want to use a regular account to keep making transfers, you'll need to provide the account information for that account you're using to transfer the money from
Once this is set up (such as a checking account), you can transfer money to your Emerald card each time without having to enter that information again. If you have any problems, you can call Emerald card customer service at ​800-472-5625​.
Each time your account balance gets low and you want to reload your card, just log in to your Emerald account using your computer or phone and add money, following the steps at the website, on the app or at an ATM. You might pay a fee of ​$4.95​ each time you load money to your card, depending on what type of transfer/reload you're doing.
You'll pay a higher fee if you want access to your money immediately, or pay less if you can wait to access your funds for a few days. Be aware that you might only be able to load ​$1,000​ per day onto your card, points out Finder.com.