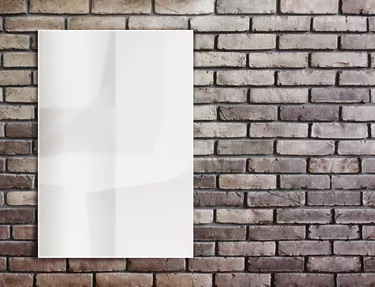 Real estate brokers often display their photos, name and logo on sales fliers. By selling your home on your own, you free up valuable flier space for the details that homebuyers are most interested in. While 90 percent of homeowners prefer to list with an agent, according to Realtor.com, you can still attract buyers to your home on your own. Effective and professional-looking fliers to help you include good design, essential property details and the right wording.
Ad Essentials
Take most of the guesswork out for the homebuyer. Your flier should conspicuously display the price and include your home's address, basic property characteristics such as square footage and number of bedrooms and bathrooms, and your contact information. Include a map or directions to your property and a website if you've set one up.
Picture-Perfect Fliers
Whether you take photos yourself or hire a photographer, ensure that each image of your home is free of people, pets and clutter. Homebuyers want to envision themselves in your home, rather than the current residents. Although a picture is worth a thousand words, use more than one photo to showcase the best your home has to offer. Include one large eye-catching photo of the front of your home, plus two to five smaller photos of key spaces, such as the kitchen, a bathroom, the master bedroom, a master bathroom, a pool, spa, or the backyard.
Highlight the Perks
An effective FSBO flyer answers a homebuyer's unspoken questions about a home, letting homebuyers know up front what's in it for them, according to ForSalebyOwner.com. Your flier should include a description of your home and perks buyers may not be aware of -- the convenience of nearby shopping, schools and public transit, and interior benefits such as new flooring, appliances, roof or remodeled elements. Your flier need not say outright that the property is a FSBO. Instead, provide your personal contact information along with a congenial message, such as: "Please contact me for more information," and insert your name, phone number and e-mail address.
Don't Skimp on Color, Paper or Design
Whether you photocopy or print fliers from a printer, color is key to conveying your message, according to ForSaleByOwner.com. Color is warmer, or more inviting, than black and white, and you can use color to draw the eye to your home's pictures. Choose high quality paper that homebuyers are less likely to throw away. Thin, cut-rate paper stock can make an otherwise appealing flier look cheap, thereby, weakening homebuyers' impression of both your home and you as an owner and seller. Use two or three fonts throughout that are significantly different from each other. The call-to-action should have a different font from the content and have a larger scale. Don't use more than four font sizes and organize font size by importance of content.
Flier Distribution Tips
Leave your FSBO fliers at local real estate offices if cooperating with buyer's agents. Ask the broker or receptionist for permission to place fliers and let them know you are offering a commission. If your community allows, post fliers in public places such as clubhouses, park bulletin boards and distribute them door-to-door. Place a flier holder on your home's "For Sale" sign and keep it stocked for prospective buyers driving or walking past your house. When holding open houses, also keep fliers on hand. If you choose to leave fliers at non-realty businesses, obtain permission from someone in charge, put them in a designated space and place them in a plastic holder so your fliers don't end up floating around or littering.
Fair Housing Laws
Do not include discriminatory remarks -- overt or otherwise -- on your flier which limit or describe preferred buyers. Suggesting the type of buyer that would be good for the home or the demographics of the neighborhood are prohibited by law, as is mentioning race, religion, nationality, familial status, age, disability, sex or sexual orientation. Also avoid statements such as "Great starter home for young newlyweds," or "Wonderful home to raise your children in." Instead, use concrete descriptions, such as "excellent school district."