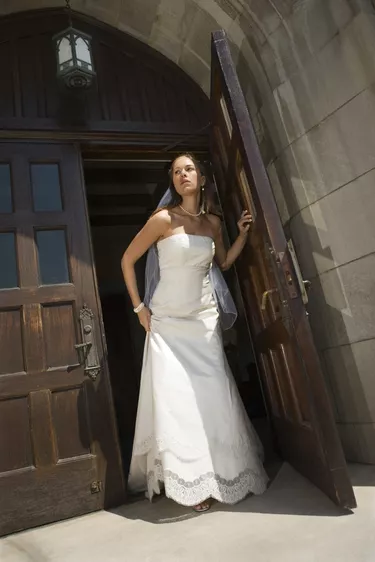 Selling your wedding dress on Craigslist rather than banishing it to a box in the attic -- where it could get musty and yellow -- will not only put a little extra cash in your wallet, but it could also give another bride the opportunity to afford the dress of her dreams for less than retail cost. Passing your wedding dress on to be reused is eco-friendly, too. Follow common sense and insider Craigslist tips for best selling results.
Placement
Place your wedding dress sale ad in the Craigslist "for sale" section under the "clothing" category to maximize the suitability of the people who see the ad. While wedding dresses are not everyday clothes and you may be tempted to place the dress in the "beauty and health" category -- because, after all, wedding dresses are meant to make the bride look and feel beautiful -- stick with "clothing." Picking the right category can mean the difference between selling an item on Craigslist and not selling it, according to the article "5 Tips for Selling Your Stuff on Craigslist" on the Apartment Therapy website.
Photos
Augment the ad with multiple photos of the wedding dress. Photos are vital for Craigslist sales because they show people whether the item will be worth their trouble to correspond with you and arrange to purchase the dress. If possible, provide photos of someone -- perhaps yourself -- modeling the dress, as most dresses don't look their best drooping from a hanger. Use a photo editing program to hide your face if you are concerned about privacy. Wedding dress ad photos should include full-length shots showing the front and back of the dress and closeups of any out-of-the-ordinary feature, such as a beaded bodice or an unfortunate stain.
Wording
Flesh out the ad with a detailed description of the wedding dress. Include all the details that you know, including the brand, size, length, style name, retail price, year you purchased it, how many times it was worn (usually just once), any alterations you commissioned, any accessories that come with it, whether it was cleaned after the wedding, and whether it has been stored in a smoke-free environment. Also include your general location -- neighborhood or cross-streets are sufficient, no need to include your address in the ad -- and the price you are asking. Many wedding gown sellers like to throw in a personal touch, like how the dress made them feel or a story from their wedding day.
Price
State the price of your wedding dress clearly, and include whether or not you are open to selling it to the highest offer (express this with the acronym "OBO," which stands for "or best offer") or whether your price is firm. Other terms related to payment should also be stated, such as if you will accept a check or money order or if you will accept only cash.