People can and do sell their homes in Washington without listing them with real estate brokerages. No special permits or licenses are necessary in Washington. You have the right to sell your house on your own, just as you have the right to sell a car on your own. You do, however, have responsibilities other than showing and selling the house, and some of them are legal requirements.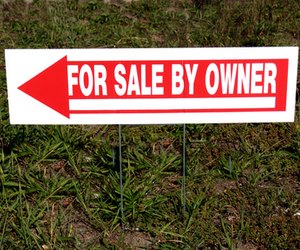 Preparing the House
Step
Make necessary repairs. Dripping faucets, chipped bathroom fixtures, leaking roofs and the like scare buyers away. Legally, you will have to tell prospective buyers about broken mechanical systems and other damaged or broken features of the house that are not readily visible, so it's better to fix everything you can. You can't pretend not to know.
Step
Clean and declutter. Throw away anything you're going to throw away when you move, and pack up and store anything that you will be taking with you, except for the bare necessities, including a minimum of furniture and decorator items. The house will show better.
Step
Paint the main living area, kitchen, halls and master bedroom to make the house sparkle. You can use fashionable colors, as long as you coordinate them from room to room.
Step
Spiff up the yard and front entrance. Mow, edge and plant a few shrubs if you don't already have some. Buyers will feel welcomed by a pot of flowers near the door.
Step
Get the house appraised by a professional licensed appraiser or ask a real estate agent for a market analysis. Agents will do this for a small fee or for free.
Step
Set the price based upon the selling prices of nearby houses of the same approximate size, age and condition. Do not use asking prices or hearsay. Overpricing the house is one of the most serious errors a seller can make. Allow a little wiggle room for negotiation.
Prepare for Your Legal Obligations
Step
Familiarize yourself with the Fair Housing Act to avoid inadvertent housing discrimination, as the FSBO Home Marketplace recommends. The Fair Housing Act is a federal law and as such will apply in Washington state. It prohibits discrimination based upon race, religion, color, sex, familial status, handicap or national origin.
Step
Get a Washington-state approved property disclosure statement, fill it out and make copies. You must give a copy to anyone who contractually agrees to buy your house, according to the Washington State Legislature. To avoid misunderstandings, consider giving it to any serious prospects before they sign a purchase contract.
Step
Get a Washington-state approved purchase contract for real estate. You will need it when someone wants to make an offer. You can download one from a website that sells legal real estate documents or buy one at on office supply store that carries state legal forms.
Market the House
Step
Put a "For Sale" sign in front of the house. Include your phone number. The lawn sign will be one of your most important marketing tools.
Step
Advertise the house on local For-Sale-by-Owner (FSBO) websites and, if possible, link to a photo-gallery webpage that you can put up to sell your house.
Step
Advertise in print media such as local FSBO publications and the newspaper.