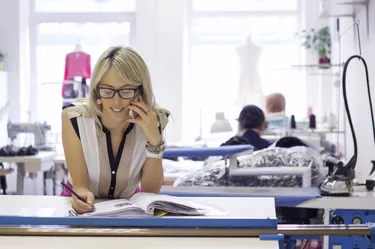 Home sellers may decide to go it alone and save money by eliminating the real estate agent's commission. To do so, a For Sale by Owner -- FSBO or "fizzbo" -- seller must learn the rules and regulations in his state and must become knowledgeable about marketing and negotiation skills. The seller should also consider hiring an agent for specific tasks, such as advertising the house, and employing a lawyer to review contracts and handle the closing. While real estate professionals are experienced experts, FSBO sellers can keep control over all aspects of the process and deal directly with the buyer.
Learn the Rules
It's essential to investigate the legalities of real estate transfers in your state. Failing to disclose problems such a flooding basement could bring the sale to a standstill. In general, disclosure only requires pointing out information that you actually know about, but some states require owners to search for defects. Check with the agency governing real estate transactions in your state to learn about disclosure rules and any forms required.
Price It Right
Among the important functions performed by real estate professionals is pricing a house to sell in the current market. For sell-it-yourselfers, online tools like Pricing Scout quickly provide the estimated market value of your home as well as nearby comparable home sale prices. Selling a FSBO could allow you to reduce the asking price by the amount you will save on an agent's fee, thus improving its chances in a competitive market. Even if you don't feel you need the full services of a real estate professional, you might hire one for limited tasks like helping you arrive at an asking price and assisting with paperwork.
List Your Home
An essential tool real estate agents use to publicize houses for sale is the Multiple Listing Service, or MLS -- a service that lists houses for sale throughout the nation. Even FSBO sellers can use the MLS to show off their houses by signing up for a service and paying a monthly fee, paying a real estate agent to perform this specific function, or signing up on available FSBO sites and paying a small fee for a MLS listing. A FSBO seller can also write an ad for publication in local newspapers and on web sites; follow the style of ads for similar houses. Various online sites offer packages including yard signs, flyers and listings on the MLS and elsewhere.
Prep the House
Real estate professionals offer advice on staging a home for the most buyer appeal, but a FSBO seller can pick up hints from a variety of websites. Essentially, the house must be clean with personal items stored away so that prospective buyers can visualize their own belongings in place. The seller should be prepared to advertise and host an open house.
Keep it Legal
Once you have received a written offer from a potential buyer, insist that the buyer provide you with a pre-approved mortgage letter. Your state may require that you have a real estate agent and a lawyer at the closing of your sale. Even if it is not required, hiring a real estate professional as well as a lawyer is a good idea, considering the legal complexities involved. Real estate lawyers prepare contracts -- ensuring that they protect you -- as well as perform title searches and conduct the closing. State-specific contracts and disclosure forms are available online and can be downloaded. The seller and his lawyer must review the contract to be sure it meets all stipulations that protect the seller. Since saving money is the goal of a FSBO, you can hire a real estate agent and a lawyer for just these specific tasks or for a limited number of hours.