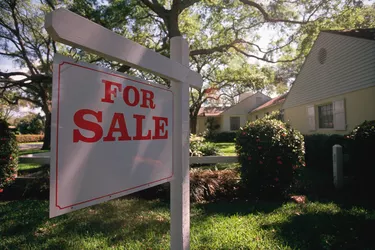 Homeowners in Pennsylvania can sell a home themselves without the involvement of a real estate broker or agent. The process for selling your home yourself is abbreviated FSBO or "for sale by owner." The sale of real estate is frequently a complex legal transaction that must be filed according to applicable state laws, however. Even FSBO home sales typically require at least the assistance of real estate attorneys or title companies to properly close their transactions.
Advertising and Selling Your Home
Step 1
Search zillow.com., a free website that will supply information about your home's estimated property value versus those of comparable nearby properties. The Trulia.com website can display average list and median sale price of homes in every Pennsylvania county. Note the sale prices of homes in your neighborhood over the previous three to six months. When setting your listing price, ensure you compare your home only to similar homes that have recently sold in your neighborhood.
Step 2
Clean and declutter your home so that prospective buyers will see your house looking the best it can. Tidying up will make your home's rooms appear larger. Paint walls neutral colors. A fresh coat of paint will enhance a room by making it appear clean. Rake your yard and get rid of dead plants. "Curb appeal" is the first impression a potential buyer has of your property. Preparing your house prior to advertising it will help it sell faster and for a higher price.
Step 3
Put a "For Sale by Owner" sign in the yard or front window. Create an illustrated flyer that highlights features of your house, including the price. Place an ad in the local newspaper's classified section. Set a date and time for an open house. Consider listing your home in popular FSBO websites that offer placement in local Multiple Listing Service databases
Step 4
Selling by owner means you'll be negotiate your home's sale directly with the buyer. The sale of real property is also a legal transaction. Real estate contracts in Pennsylvania contain "specific performance" clauses, for one, meaning sellers must sell their properties as set forth by contract unless buyers fail to perform. Once the sale price and terms for your home's sale are agreed upon take the signed contract to your chosen title company or real estate attorney.
Step 5
Once you've sold your house ensure the title company or real estate attorney registers its deed at the applicable county courthouse. Selling a home in Pennsylvania also requires payment of appropriate fees or transfer taxes. Real estate attorneys and property title companies are skilled at determining state-required home sale fees and transfer taxes.
Tip
Study thoroughly on sale processes and techniques used by FSBO home sellers.
Warning
Everything is negotiable in real estate, so be prepared for possible back-and-forth or give-and-take between you and any potential buyers of your home.
Things You'll Need
Computer with Internet access

For Sale by Owner sign

Flyers for your property

Cleaning supplies

Real estate attorney

Title company