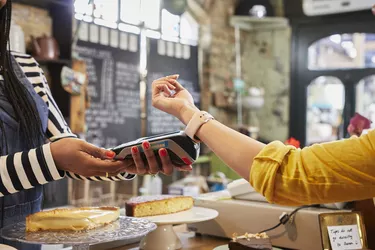 Over the years, consumer payments have moved from cash to credit cards and debit cards. Digital payments are taking consumers even further, allowing funds transfers without needing to input a card number or swipe a physical card. Apple Wallet is an app that uses Apple Pay to make purchases in person using your iPhone or Apple Watch.
Apple Wallet is an app that comes preinstalled on every iOS device. It will use Apple Pay, where you can add multiple cards and set one as the default. Once you've added your cards, you'll be able to use Apple Pay through your wallet on your phone or online wherever it's accepted.
Follow these steps to use Apple Wallet.
Set up Apple Pay on your phone by opening the Wallet App and tapping Add. You'll then choose debit or credit and follow the prompts on the screen.
Find a retailer that accepts Apple Pay. You can search for Apple Pay in maps to pull up a list of accepting businesses nearby. Retailers will often have Apple Pay signage if they accept Apple payments.
At checkout, use Face ID or Touch ID to activate Apple Pay on your iPhone. You'll unlock the service by facial recognition, entering your passcode or double-clicking the home button. Hold your screen near the contactless reader to pay.
For Apple Watch, simply double-click the side button and hold the watch display near the reader.
Apple Pay isn't just for mobile payments. Once you add cards to the digital wallet, you can use that card both in-store and online. Many online retailers now accept Apple Pay. Look for the Apple Pay logo when you're shopping on your iPhone, iPad or Mac.
If you use Apple's browser, Safari, you can access your Apple Wallet to pay any online retailer. This isn't available in all areas, and you'll need to input the same Apple ID you use to access your wallet on other devices. To use Safari's Apple Pay feature, simply click Apple Pay on your Mac or MacBook at checkout, then update any necessary information before finalizing the purchase.
Once you've added your cards, you'll be able to use Apple Pay through your wallet on your phone or online wherever it's accepted.
Payment cards aren't the only items you can securely store in your Apple Wallet. The app lets you add, use and even share certain types of tickets and passes to your Apple Wallet to store and manage them. Apple Wallet supports the following types of passes and tickets:
Boarding passes
Rewards cards
Resort passes
Movie tickets
Concert tickets
Coupons
To add a pass, card or coupon to your digital wallet, look for the "Add to Apple Wallet" logo on the communication that has your ticket or pass. When you're ready to use the ticket or pass, simply go to your Apple Wallet and present the screen to the attendant or hold it over the contactless card reader.
The Apple Wallet securely stores your card details, making it easy to pay shops and online retailers using an iPhone, Apple Watch app or Mac. The app comes pre-installed on Apple devices, so you don't even have to go to the app store to download it. You'll just open the app and add your card so it will be ready when you want to use it.
​How do I get my cards into the wallet?​
Open the Apple Wallet app and tap Add, then follow the prompts.
​Does the wallet work on all my Apple devices?​
Apple Wallet works only on iPhones and iPads that have Face or Touch ID. It works on Apple Watch Series 1 or later.
​Can the wallet be used for mobile payments?​
Yes, you can use Apple Pay anywhere Apple Pay is accepted.