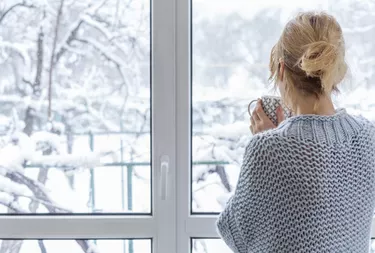 'Tis the season to … what? Hang the mistletoe by the chimney with care or light the menorah? The Pew Research Center found that ​70.6 percent​ of ​35,000 Americans​ followed the Christian faith. Another ​22.8 percent​ said that they didn't identify with any religion in particular. The others indicated that they were Jewish, Muslim, Buddhist, Hindu or "other."
That's just enough of a mix to create households that are trying to juggle more than one holiday tradition. What's a family to do?
You and your significant other should know what you're getting into before you make a commitment to each other. Maybe they're Jewish, and you're Catholic. It's always a good idea to discuss a plan ahead of time so you're not bulldozed by stress during your first holiday(s) together.
This can be particularly important if you already have or plan to have children. Anticipation is a huge component of holidays for little ones. Children in blended multi-faith families should have an idea of what they can look forward to as early as possible. These are teaching moments, helping them to learn about the faith you're raising them in, as well as others.
Different Days, Different Traditions
You can plan a couple of approaches when December is looming with all its various secular and religious holidays. One might be to draw a firm, definitive line between your customs for each.
Give each holiday its own celebration. Hannukah begins on Christmas Eve or Christmas Day only once every 15 years. It covers eight nights, so you can easily honor both holidays. Light eight candles and play dreidel in honor of Hannukah, then swarm the Christmas tree at a different time.
Kwanzaa is a seven-day event beginning the day after Christmas and Bodhi Day, the Buddhist holiday, traditionally falls much earlier in the month on December 8. Both lend themselves easily to celebrating each holiday at a separate time.
Do your homework before scheduling an office party. Take care that you don't throw your Christmas bash on the first night of Hannukah.
This isn't to say that you can't blend everything together instead. Yours won't be the first Christmas tree to sport a Star of David at the top instead of an angel. Spread out gifts to cover the eight days of Hannukah and Christmas morning as well. There aren't many kids out there who will object to multiple nights and days of presents.
The holiday table can provide an excellent way to blend traditions. Bodhi Day is known for vegetarian dishes, and Kwanzaa focuses on fruit and vegetables as well. Think latkes, challah bread and brisket for Hannukah. Then there's that Christmas ham or a delectable seafood dish if your family or friends are Italian and want to celebrate the Feast of Seven Fishes on Christmas Eve.
Consider a holiday buffet incorporating different meal traditions into your own new tradition. This can be a great option for workplace celebrations as well.
Paying for Two (or More) Holidays
Considering multiple days and nights of gift-giving, not to mention that incredible multi-tradition holiday buffet, might make you wince, but the cost doesn't have to be prohibitive.
The usual holiday budgeting rules apply. Start buying (or at least setting money aside) as early in the year as possible. Be realistic when you're gauging what you'll probably have to spend.
And about all those gifts… Don't overlook the much-appreciated value of promises for future services. Promise to babysit for your in-laws on a weekend night so they're sure to get out alone together. Be an occasional taxi service for an older relative or a coworker who doesn't drive. The idea behind holiday traditions is sharing and feeling good, after all.