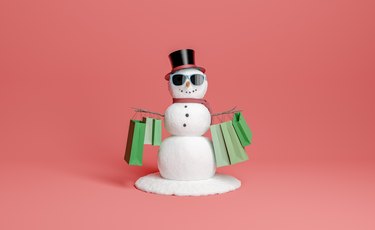 With the National Retail Federation expecting the average holiday spending to be around ​$998​ per consumer in 2021, it's essential to take a close look at your finances to see where you stand and what you can afford this holiday season. Factors, such as your savings and income, limit the money you have to spend. Meanwhile, your holiday expenses can include everything from gifts and meals to travel and decorations. The good news is that you can find ways to reduce holiday expenses to better fit your budget if you're creative, flexible and do some research.
Looking at Your Available Cash
Before you start estimating costs and creating a detailed holiday budget, you'll need to determine your available cash. Ideally, you would have saved money throughout the year in a holiday fund for this purpose. However, if you haven't saved up or you didn't save enough, you can also look at your current income and expenses and determine what's remaining from now until the holidays.
You might already have a regular family budget that shows your discretionary income. But if you don't have a budget, add all your family's monthly income sources and then subtract all your monthly expenses such as housing, transportation, insurance, food, utilities, credit cards and loans, child care and so on. So, if your income was $5,000 and your expenses $4,000, that's $1,000 left for holiday spending.
Setting a Holiday Spending Limit
Once you know what's available for holiday spending, you should set a specific limit that you're comfortable spending. For example, you might opt to keep your holiday expenses to no more than ​1 percent​ of your income or a flat amount like ​$1,000​.
If you have documents like a past budget or bank statements from the last holiday season, those can help you set your limit and make adjustments when needed. Such documentation can also help during the next step where you break down how much you'll need for travel, entertaining, gifts and so on.
Allocating Holiday Spending by Category
You'll want to make a spreadsheet and jot down all the categories of planned holiday expenses along with spending estimates for each. The specific allocation used will depend on your holiday plans, preferences and money available. As you allocate your spending, you'll need to keep a few things in mind.
​Holiday gifts tend to make up the biggest portion of one's holiday budget​: You'll want to list each recipient and set dollar limits that may vary by relationship. For example, you might opt to give $25 eGift cards to certain friends and $50 eGift cards to close family members. Also, include costs such as shipping and packaging.
​Holiday meals can add up​: The money spent on meals varies depending on how many people are eating, whether you eat at home or a restaurant and what types of food and drinks you choose. It can include everything from groceries and restaurant meals to tablecloths and cutlery.
​Entertainment during the holiday season is costly​: It often includes things like movie passes for the family, tickets to plays and concerts, parties and indoor and outdoor holiday decorations. This area typically has less essential items, so you might opt to allocate only a small amount to entertaining.
​Travel costs are often unavoidable​: If you plan to have everybody at home locally, you might not incur costs in this area. Otherwise, you might deal with significant expenses such as hotel stays, airfare and rental cars. Plan to book early.
​Miscellaneous costs count as well​: You might have other types of holiday expenses such as planned charity donations, professional family photos, pet boarding during travel and holiday cards.
Finalizing Your Holiday Budget
When you subtract all your expected holiday costs from your available cash, you should not get a negative amount on your budget. If you do, you might feel tempted to charge those extra dollars to your credit cards. However, this can lead to debt issues and interest costs if you can't pay off the amount fully when due.
Taking a DIY approach to gifts, shopping for deals, narrowing down recipients or giving IOUs

Reducing holiday meal costs by hosting a potluck at home versus eating at a restaurant
Decorating your home with existing or homemade items

Determining what to do without such as skipping entertainment costs like movies and plays
Opting to spend the holidays at home rather than traveling

Looking for extra income sources or selling what you no longer need