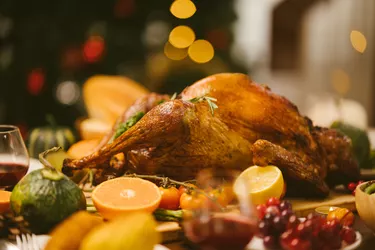 Food is the main attraction at holiday gatherings, whether it's a party or your family dinners on Thanksgiving and Christmas Day. But the cost of buying all those ingredients can add up quickly, leading some households to consider alternatives. Pre-cooked holiday meals will usually be more expensive, but for some, the time and stress it saves make it worth it.
Cost of Homemade Holiday Meals
Each year, the American Farm Bureau Federation examines the average cost of a holiday meal. This is specific to Thanksgiving, but since Christmas dinners often involve similar ingredients, it's a good gauge. The cost for a ​10-person​ meal ranges from ​$45-$50​ each year, with ​2020's​ survey estimating the cost at ​$46.90​, or less than ​$5​ per person.
The most expensive item in the survey is the turkey, which hovers at just under ​$20​ for a 16-pound bird. The survey then adds on typical holiday favorites like stuffing, sweet potatoes, rolls, cranberries, a veggie tray and pumpkin pie. All items are priced according to the typical amounts necessary to feed a group of ​10​.
As the holiday draws nearer, you'll often see restaurants advertising complete restaurant meals for a fixed price. You can even skip the long waits and get your order to-go. These meals typically include turkey and ham, sides and dessert. You can always supplement this with appetizers and desserts you make yourself.
It's important to note, though, as you look at the total cost, that if you're buying for a party of 10, you might have to place multiple orders. Some of these locations might also only offer this for Thanksgiving, not Christmas. Here are typical restaurant costs for Thanksgiving dinner:
​Cracker Barrel Heat 'N' Serve:​ ​$144.99​ for ​8-10​ servings
​Denny's:​ ​$39.99​ for ​four​ servings
​Bob Evans: $59.99​ for ​six​ servings
Restaurants aren't the only venues offering to take over all the cooking. If you don't mind sticking your pre-made food in the oven, you can get all the courses through local grocery stores and mail-in services.
​Honey Baked Ham: $55.95​ for ​six​ to ​eight​ servings
​Kroger: $70​ for ​eight​ servings
​Publix: $49.99​ for ​7-10​ servings
​Whole Foods: $69.99​ and up for ​4-12​ servings
​Harry and David: $239.99​
Pros of Ordering Holiday Meals
Cost isn't the only consideration when it comes to ordering. Before choosing one over the other, take a look at some of the benefits of ordering
​Less waste:​ Instead of overloading on turkey sandwiches for days after the holiday, you can buy a meal that will provide the right amount of food you need. In fact, Americans waste more than ​30 percent​ of the food they buy, and the holiday season doesn't help reduce that number.
​Easier clean-up:​ Most to-go meals come in disposable containers. Simply toss them into the trash when the meal is over. You could even go for plastic utensils and paper or plastic plates to eliminate dishwashing altogether.
​More variety:​ Families tend to gravitate toward the same food every year. By choosing a pre-cooked meal, you might be able to opt for side items like vegetables that you wouldn't normally try.
​More time to rest:​ The time-saving benefits of ordering your holiday meals can't be overstated. Instead of hours in the kitchen cooking and cleaning up, you can relax and enjoy the holiday.
Cons of Ordering Holiday Meals
There's a reason many choose to keep the cooking at home. There's no substitute for a family recipe. In addition to that, here are a few other downsides of delegating cooking to your favorite restaurant or delivery service.
​Cost:​ No matter which service you choose, chances are, your meal will cost you more if it arrives already prepared.
​Less variety:​ Typically, pre-cooked meals offer a limited menu. If you're used to having a buffet packed with numerous sides and desserts, you'll have to plan to supplement your order with items you purchase at the store.
​Wait times:​ No, you won't spend your holiday cooking, but you won't be the only one having food prepared for you. Most services see overwhelming demand, so you'll have to order early and hope there are no delays in picking it up or having it shipped during the busiest season of the year.
​No leftovers:​ If you have family in town for the holiday, you won't just be eating on Thanksgiving or Christmas Day. Those leftovers can keep everyone fed for the rest of the visit. If you order food, chances are, you won't have the overabundance of leftovers you'd have if you cooked.
Only you can decide whether your holiday meals should be homecooked or not. Weight the benefits and downsides as you're considering the cost of each option. Although you can typically save money by cooking it yourself, there are other factors that might be more important than money.