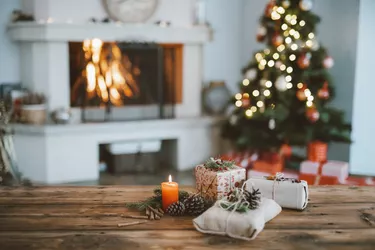 Holiday expenses can be cringe-worthy even in the best of years. Throw in some economic downturns and soaring post-pandemic prices on merchandise, and you might find yourself feeling a little panicked. Fear not. The winter holidays don't have to break the bank, and not breaking the bank doesn't mean they can't still be awesome.
Why spend money on items you already have? Your first step should be to poke your nose back into last year's holiday storage boxes well before you begin to decorate. Take an inventory of what you already have on hand so you know for sure what you want to – or have to – add. More than one holiday budget has been busted by impulsive purchases that shoppers brought home only to realize that they weren't really needed after all.
And don't stop with last year's decorations. What else do you have on hand that you can repurpose? That extra-extra-extra bread basket might serve a different purpose if you spray-paint it a glittery gold.
The goal here isn't to replace everything in your home or apartment with a holiday-themed item. One or two little touches can go a long way, particularly if you're the creative type and you think you can handle a few do-it-yourself tasks.
Maybe you're lucky enough to live in a climate where you have a pine tree out back. Help yourself to some small boughs for your mantel or to use as a centerpiece to liven up your dining table. You can also relieve your Christmas tree of a few if you opt-in for a real one. And Christmas balls don't begin and end with your tree. You can purchase a box of ornaments at minimal cost and dangle them from lampshades or use them as window decorations.
Okay, about that tree. Your home is probably bursting with things you can use to decorate it – or they can be found for negligible cost. Think cinnamon sticks tied together with bright ribbon that will let them dangle from a bough. Clothespins can be transformed into amusing stick figures with some glue, fabric and ribbons. Your kids probably won't be examining them for their artistic quality. And don't stop with just boughs borrowed from that tree in your backyard. What about pinecones? Again, a little glitter can go a long way.
Scare up some empty boxes – or save them leading up to the season – and wrap them and tuck them under the tree as decor well before Christmas morn. Just don't forget to remove them before the big day so no one opens an empty box.
Christmas is one day, or two if you count Christmas Eve. Hanukkah is eight days of gift-giving and family time, so you might find yourself in need of a little budgetary help with the decor.
Consider cleaning out and saving some tin cans. They can be transformed into nice luminaries with candles and gold gelt. You can press the gelt into double or triple duty, using it to create banners and garlands as well.
You can also start a tradition that provides its own decor by inviting guests to bring their own menorah on the last night. Then light them all and play dreidel, eat latkes and add in some sufganiyot for extra fun. (Who doesn't love a jelly donut?)
You don't have to wait until Black Friday to begin shopping for the holidays and, in fact, your budget will probably thank you if you don't. Spread those expenses out over 12 months, beginning in January when retailers are throwing post-holiday sales, trying to clear all those unsold decorations and tree lights that are still sitting on their shelves. The same goes for other little holiday touches: leftover napkins, a Christmas-themed tablecloth and plates and even place cards should all be marked down considerably. You should be able to get some great discounts.
Planning is key. Build a few dollars into your monthly budget to purchase potentially useful odds and ends over the course o the year, like glitter and spray paint. These things are available all year in craft stores. And don't overlook the promise of thrift and dollar stores in December and all year long.