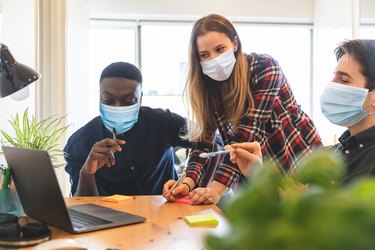 We've got reason to believe that some version of pre-pandemic life isn't so far away, at least some parts of it. Being able to socialize indoors or hug your friends feels like a fever dream some days, but with vaccines becoming more and more widely distributed, they're also in our definite futures once again.
Another thing we all used to do? Work in the same physical space. If your career feels like it's been treading water during COVID, it may come down to stalling out on social capital. Researchers and management teams at Microsoft have just written about their experiences with remote work for the ​Harvard Business Review​, and they're highlighting the importance of the non-work parts of our jobs.
"People consistently report feeling disconnected," the authors write, "and in studying anonymized collaboration trends between billions of Outlook emails and Microsoft Teams meetings, we saw a clear trend: the shift to remote work shrunk people's networks." Not only do we miss those spontaneous interactions that could lead to workplace friendships and professional bolstering, but we're so overloaded with meetings and Zoom calls that we can't even seek out those relationships online.