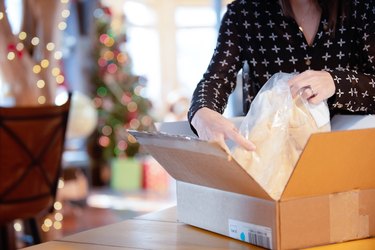 Shopping between Thanksgiving and New Year's was always going to be a difficult proposition in a year like 2020. The United States is still reckoning with an ongoing pandemic, which puts a real damper on in-person shopping. It's great news for businesses that sell products online — but so far, kind of a disaster for the U.S. Postal Service and private shipping services.
According to reporting from the ​Chicago Tribune​, "the [delivery] industry's capacity could be short by up to 7 million packages a day between Thanksgiving and Christmas," while "UPS and FedEx say they have been handling package volumes usually seen during the height of the holidays all year." Meanwhile, the post office has been reckoning with controversial changes since before the presidential election in November, leaving the agency with any number of fires to put out.
Experts are urging shoppers to get their holiday shopping done online sooner rather than later. "Don't try to order after the 15th thinking you'll get a better price," ShipMatrix president Satish Jindel told the ​Tribune,​ "because the better price will be lost in extra shipping or not getting it on time."
Different retailers have posted different suggested dates for on-time delivery, all of which are affected by warehouse locations and other logistical issues. Certain items may be more readily available than others (e.g., small kitchen utensils versus a full-sized grill), but overall, listen to your judgment if it tells you to buy now. As for the post office, check out the 2020 holiday shipping deadlines for their best estimates nationwide and internationally.