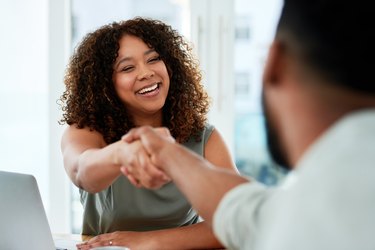 The state of employment in 2020 has more likely than not totally realigned your priorities for work. Many Americans are realizing how much they rely on schools or other outside sources for child care, while others may switch wildly between loving and hating remote work. Some fundamentals about the state of work have come more sharply into focus than ever, though — and employers should take note of what we all feel we're missing.
As part of a massive (think tens of thousands of open positions) hiring push, Amazon has commissioned and released a survey on what Americans are thinking and feeling about their jobs and their career prospects. Unsurprisingly, the findings are pretty grim. More than half nationwide are looking for new jobs because of COVID-19; more than one-third of all respondents feel that their current jobs don't utilize their skills or training. (No wonder so many of us label ourselves as chronically underemployed.)
That's not all. More than 6 in 10 of us are looking for work in a different industry altogether. We're also pretty worried about the skill sets we currently have — almost one-third of us are actively looking to cultivate new technical skills to make ourselves more attractive to hiring managers and teams. Sometimes we can help ourselves by reorganizing the stories we tell about the skills we already have. So-called "soft skills" are hugely undervalued in the hiring process and critical to actually doing your job. All in all, however, the pandemic is shaking up what's important in how we spend our time, and how we earn our money.